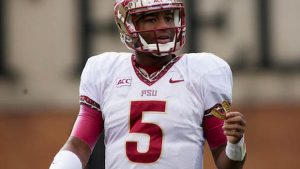 Testing completed by the Florida Department of Law Enforcement has proved that a DNA sample provided by Florida State University quarterback Jameis Winston is a match to that obtained from the underwear of the woman who accused him of sexual assault.
On the night of the assault, December 7, 2012, police obtained a sexual assault kit from the victim after she had reported that she had been sexually assaulted in an off-campus apartment. Tim Jansen, Winston's attorney, advised the FSU star to provide a DNA sample to those investigating the case. The DNA match does not prove that Winston is guilty of a sexual assault, but it does prove that Winston and his accuser were together on Dec. 7, 2012, the same day she filed the police report.
Jansen, in a statement to the media, has been critical of details about the case being leaked to the media. He emphasized Winston's claims of innocence stating that Winston voluntarily offered up a DNA sample.
William Meggs, the state attorney investigating the case, is still trying to get a handle on the entire case's details. He and his office will be meeting with the accuser on Thursday. After careful analyzation of all the facts and evidence, Meggs will make a decision as to whether charges will be filed or not.
The accuser had stopped cooperating with police this past February, which left the case in open-inactive status. Police approached Winston at that time and informed him that the investigation would not be continuing. The accuser's attorney, Patricia Carroll, said that the reason her client stopped communicating with the Tallahassee Police Department was because she was warned about the repercussions of pursuing her case. The TPD stated that Tallahassee is a big football town and that the woman's past would be scrutinized intensely and her life could become one full of misery.
Winston's status as a student and football player at the university has not changed. The Heisman candidate will start Saturday as the Seminoles entertain Idaho. Florida State will face in-state rival Florida the following week before taking on the Coastal Division champion in the ACC championship game on Dec. 7.