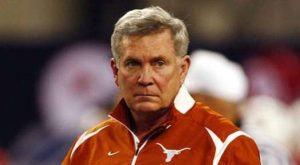 Mack Brown, who has spent the past 16 seasons as the head coach at the University of Texas, will reportedly step down as head coach by the end of this week.
The Texas football website Orangebloods.com broke the story on Tuesday afternoon saying that Brown would be resigning by Friday. Brown, who is on the road recruiting, denies that he is leaving the program.
Speculation about Brown's job began almost as the 2013 college football season began. When the Longhorns started the season 1-2, things got really ugly. Brown wound up firing defensive coordinator Manny Diaz after Texas gave up over 500 yards rushing to BYU in game two.
But the Longhorns rallied and won six in a row including a huge 36-20 win over rival Oklahoma in the annual Red River Rivalry. The Longhorns would go on to lose two of their last three, albeit to 12th-ranked Oklahoma State and ninth-ranked Baylor. Texas, which finished the season 8-4, is scheduled to play No. 10 Oregon in the Valero Alamo Bowl on Dec. 30th.
Brown has had a long and storied coaching career beginning with his first head coaching job in 1983 when he turned around a struggling Appalachian State program. He did the same at Tulane in the mid-1980s before taking over at North Carolina in 1988. Brown's Tar Heels went 20-3 in his final two seasons and finished the 1997 season ranked No. 4 in the final AP poll.
The Tennessee native whose brother Watson is the head coach at Tennessee Tech, enjoyed plenty of success at Texas. But, a program that expects to be in the national championship picture year after year has seen the program fade in recent years. Brown had a run of nine consecutive 10-plus win seasons, including the 2005 national title, that ended with a loss to Alabama in the 2009 BCS title game.
After a disastrous 5-7 2010 season, the speculation began. Subsequent 8-5 and 9-4 seasons in 2011 and 2012 just aren't going to cut it with the Longhorn faithful and, even though Texas rallied this season, it may be time for a change.
The rumors began early this season about Alabama head coach Nick Saban going to Texas. The administration at Alabama has presented the national championship coach with a new contract extension worth almost $7 million per season. Saban signed a new contract earlier this season saying that he planned to retire from coaching as the Crimson Tide head coach. Only time will tell. Saban has still not signed the new contract extension.