Charlie Strong Expected To Be Named Next Head Coach At Texas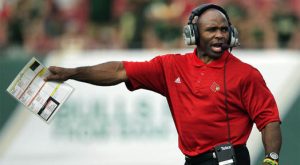 Current Louisville head football coach Charlie Strong is expected to be named the new head coach at the University of Texas, according to sources, to replace Mack Brown who resigned at the end of the Longhorns' season.
Strong met with Texas officials and was reportedly offered the job but has not accepted as of yet. He will speak with Louisville president James Ramsey and the school's athletic director Tom Jurich before announcing his intentions.
In his fourth season with the Cardinals, Strong pulled off a second consecutive double-digit win season, leading Louisville to a 12-1 mark. An American Athletic Conference upset loss to Central Florida, another 12-win team, was the only blemish on the Cardinals' record. That loss knocked Louisville out of the national championship race.
Strong took over a Louisville program that was struggling and in four years has gone 37-16, including a remarkable 23-3 the past two seasons. When he accepts the job, Strong will inherit a Texas program that has lost at least four games in each of the past four seasons.
Brown, who has been the Longhorns head coach since 1998, went 158-48 while at Texas and revived one of the country's most storied programs. Texas had slipped and lost some of its luster through the late 1980s and 1990s. Beginning in 2001, Brown's Longhorn teams recorded at least 10 victories in nine straight seasons. Led by QB Vince Young in 2005, the Longhorns captured the BCS national championship. Four years later, they played for the title again, this time losing to Alabama.
Strong is known for his defenses having served as a defensive coordinator for both South Carolina and Florida in the SEC. His Cardinals defense this season was superb, finishing ranked No. 2 in the entire country in points allowed per game, 12.2. Louisville won the Russell Athletic Bowl 36-9 thanks in large part to a dominating defense that held a pretty good Miami team to just 174 total yards, 14 rushing.
It has been reported that Strong's deal with Texas will be a five-year contract worth in the neighborhood of $5 million per year.
Most Recommended