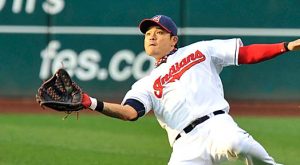 The Texas Rangers added another key piece to their off-season puzzle by adding free agent outfielder Shin Soo-Cho to their roster after reaching an agreement on a $130 million, seven-year contract.
Choo joins a Rangers team that already added former Tigers' slugger Prince Fielder via trade. The move will surely increase Texas' offensive output next season. Choo was one of the best lead-off hitters in all of baseball. Playing in Cincinnati last season, Choo hit .285 and had a .423 on-base percentage. He hit 21 home runs, drove in 54 runs, and stole 20 bases.
He was the last big-name offensive player remaining in free agency after the New York Yankees signed Jacoby Ellsbury and Robinson Cano went to Seattle.
Choo has played nine seasons in the majors with Seattle, Cleveland, and Cincinnati. He career average as a hitter is.288, but does seem to struggle against left-handed pitching. Still his on-base percentage was good enough for second, behind his Reds teammate Joey Votto, in the entire National League. Choo actually finished 12th in the voting for the NL MVP.
The Rangers outfield will now feature Choo, Leonys Martin, and Alex Rios. The Rangers are also still debating whether or not they will re-sign Nelson Cruz. Most likely, they will not now that they have signed Choo.
Choo's agent, Scott Boras, has shopped Choo around the league looking to get a deal similar to Jayson Werth's a few years ago. Werth signed a seven-year, $126 million deal with the Washington Nationals three seasons ago.
In an effort to try and keep Choo, the Reds offered him $14.1 million for the 2014 season. Choo rejected the deal and Boras was able to find what they were looking for from the Rangers.
As a result of the signing, the Rangers give up their first pick in next year's Major League Baseball draft. Should Cruz sign with another team, though, Texas will receive a compensatory pick.