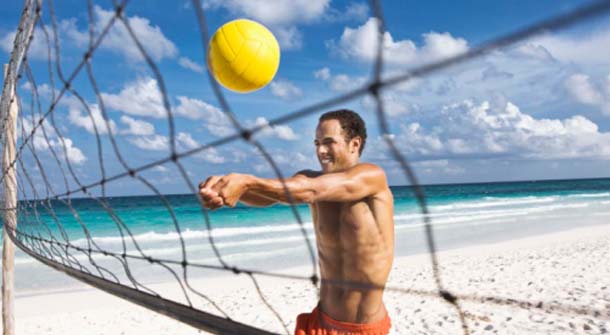 Beach volleyball is a relatively new sport within the Summer Olympics as it made its first foray as an Olympic sport in the 1996 Atlanta Games with a huge success. Since its entry into the Summer Olympics program, beach volleyball has become a major draw as a spectator event for the summer games with many Olympic spectators coming to the official games to watch the beach volleyball teams in particular.
Beach volleyball is similar to its indoor counterpart, but has a few significant differences that distinguish it from indoor volleyball: it is held on a sandy beach (or a sand covered arena) and is played by teams of two rather than teams of six as seen in indoor volleyball. In the past the Summer Olympics has been held in locations that feature a beach nearby, but as the 2012 Summer Olympics is being held in London, that option isn't viable this year. To that effect the beach volleyball competition will be held at the world famous Horse Guards Parade where the arena has been turned into a manmade sandy beach.
Volleyball at its heart is a fast and physically demanding sport that requires a level of precision and extreme attention by its players. As with other team sports it relies on the players to work with each other to win and without that collaboration the will faltering a surely be defeated. There are 24 teams competing in the beach volleyball tournament this year at the 2012 Summer Olympics with teams from varying nations vying for the gold. The completion is split into men's and women's divisions with each country entering both a men's and a women's team.
The beach volleyball sport is one that has taken over the Summer Olympics drawing in large crowds and drawing huge anticipation in the weeks leading up to the beginning of the 2012 Summer Olympics. The beach volleyball competition is set to begin on July 28th and continue on through to August 7th. The metals will be awarded for the women's division on August 8th and for the men's division on August 9th. The competition is sure to be one that is fiercely competitive and a epic battle between teams as they all vie for the gold. The current leaders in the country teams are the current world champions Larissa Franca and Juliana Silva, Brazil's top team with the Chinese team of Xue Chen and Zhang Xi and the American team of Walsh-May-Treanor and Rodgers-Dalhausser. Though there may be favorites among the teams the result is still as of yet to be decided, so who knows who will win the gold for both the men's and women's divisions.