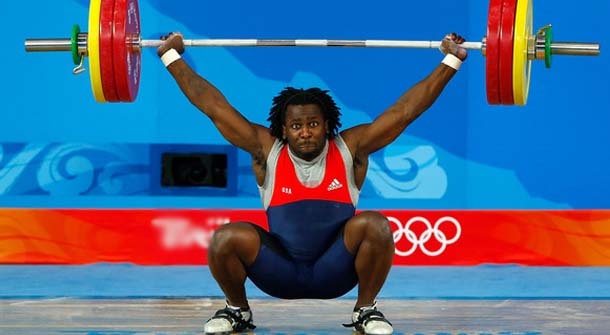 Weightlifting has been a part of the Olympic Games since they first began in 1896 and the sport has been a popular event every two years at the Summer Olympics. For the first 104 years the weightlifting championships was male dominated, but in the 2000 Summer Olympics a women's division was introduced, becoming just as popular as the male counterpart had been in years past.
Olympic-style weightlifting for both men and women divisions involves the attempt to lift a barbell that has weight plates loaded on it with the weight lifted usually being the maximum allowed and done within a single lift. The two main competitions within the weightlifting section involve the "Snatch" or the "Clean and Jerk" with each participant being allowed to carry the weight for at least three times. The overall result given by the referees is determined by the total of two successful lifts within each body weight category. In the event that a weightlifter is unable to complete at least two of the three lifts they then receive an "incomplete entry" as their result for the competition.
This year the weightlifting category of the 2012 Summer Olympics is going to be a fierce competition with returning champion Matthias Stainer from Germany coming in as a favorite for the over 105 kg Men's category and is expected to win while defending his title from the Beijing Games. However, his major challenge is to defeat Russia's Evgeny Chigishev and Behdad Salimikordasiabi from Iran. Dmitry Klokov, a silver medallist in the Beijing games, is leading the Russian team in the 105 kg Men's event and hopes to bring the gold in this year's Olympic Games. On the Chinese side are Long Quingquan and Liu Chunhong who will be participating in the 56 kg and 69 kg Men's events, representing their country while trying to defend their championship at the 2008 games. One of the favorites for this year in the women's division is Russia's Tatiana Kashirina, who is in the +75 category. She is a four-time European Champion and the 2010 World Champion in her category.
The fierce competition is set to begin on July 28th and go until August 7th when the metals will be awarded. The weightlifting competitions at the 2012 summer Olympics will be taking place at the beautiful Exhibition Centre London (also known as ExCeL) is an event that shouldn't be missed whether from the comfort of one's home or in spectator seats at ExCeL cheering on the Olympic weightlifters.