The Bears' Brian Urlacher Calls It A Career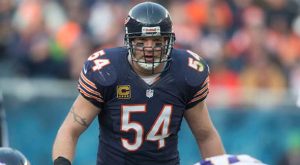 After careful consideration of his NFL future, Chicago Bears linebacker Brian Urlacher announced his retirement after 13 seasons on Wednesday. This brings to an end a stellar career that will almost certainly place Urlacher in the Pro Football Hall of Fame.
When the Bears and Urlacher couldn't reach a contract agreement after last season, Urlacher became a free agent and tested the market. But, being able to end a career playing for one team was enough for the former University of New Mexico star. "When considering…the fact I could retire after a 13-year career wearing only one jersey for such a storied franchise, my decision became pretty clear."
Urlacher finishes his brilliant career with 1,779 career tackles, best in Bears' history, and that is saying something considering the likes of former defenders like Dick Butkus, Gary Fencik, and Mike Singletary. He played 182 games for the franchise and ends his career seventh in sacks (41.5) and tied for 11th in interceptions with 22.
Every NFL team had made contact with Urlacher in hopes of making some sort of deal. There were some contract parameters tossed around but nothing solid. By July or August, Urlacher thought, there would have been some solid offers. Urlacher didn't want to wait, though, believing that if a team really wanted him, the offer would have already been made.
Urlacher commanded great respect around the league. Green Bay Packers' quarterback Aaron Rodgers said the Bears' LB was his favorite player to play against. "I just have the utmost amount of respect for him, the way he plays the game," Rodgers said.
At New Mexico, Urlacher was a consensus All-American in 1999 and the ninth overall pick in the 2000 NFL Draft. He was the NFL Defensive Rookie of the Year in his initial season and went on to be a five-time All-Pro and an eight-time Pro Bowler. In 2005 Urlacher was the NFL's Defensive Player of the Year after recording 122 tackles (98 solo) and six sacks. As mentioned, he is a likely first ballot candidate for the Hall of Fame.
Most Recommended