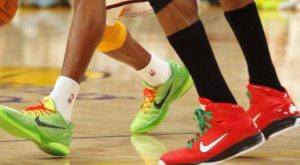 While the college football bowl season is underway and the NFL nears its postseason, there is only one sport that rules Christmas Day – the NBA.
The NBA on Christmas Day, like last year, has scheduled five games featuring marquee match-ups of the most of the league's superstars. LeBron James, Dwayne Wade, Kevin Durant, Chris Paul, and many more will be in action as the games begin with the Bull and the Nets at noon and conclude with the Los Angeles Clippers playing at Golden State.
While many would think that football would be a Christmas Day tradition, that is not entirely true. The NBA has been playing games on the holiday since 1947. There were three games that year and they went over so well that the league decided to play four the following season. The league has experimented with the number of games, but has consistently played on Christmas Day ever since.
The Christmas Day feast of games marks ABC's initial coverage for the season. The network takes advantage of the league's scheduling of such games as Miami and the Los Angeles Lakers and Oklahoma City at New York, where Durant will take on the Knicks' Carmelo Anthony.
Last season, 33 million viewers watched the five games on Christmas. The game between James' Heat and Durant's Thunder wound up attracting 9.6 million people, which happened to be more than every single NBA playoff game, except one, prior to the NBA finals.
Most players love the games since it gives them the opportunity to play in games that have huge audiences. However some, like former NBA coach Stan Van Gundy, never liked the idea of Christmas games. He believes the day is for family and, while players may love the idea, he was thinking more of stadium and arena workers like ushers, concession workers, ticket takers, etc. Those workers, for the most part, are not paid very well and Van Gundy believes taking them away from their families on Christmas is not right.
As long as the ratings continue, though, the NBA will keep playing big games on Christmas Day.