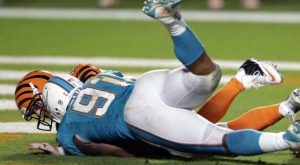 It was a Thanksgiving feast in the NFL as the Detroit Lions kicked off the day with their first Thanksgiving Day win in ten years, the Dallas Cowboys rallied to beat Oakland, and the defending Super Bowl champion Baltimore Ravens held off a furious Pittsburgh rally to defeat the Steelers.
After falling behind 10-3 in the second quarter, the Detroit defense picked up its game and QB Matthew Stafford, RB Reggie Bush, and WR Calvin Johnson paced and offense that scored 37 straight points in a 40-10 Lions win. The onslaught began after the Packers forced a Stafford fumble and Morgan Burnett returned the fumble one yard for Green Bay's only TD of the game.
Wide receiver Jeremy Ross caught a five-yard TD pass to tie the game and then Bush, on a one-yard run, and Johnson, on a 20-yard reception from Stafford, both got involved. Stafford would finish 22-of-35 for 330 yards and three touchdowns. Johnson caught six of those passes for 101 yards – his seventh 100-yard receiving game this season – and Bush ran for 117 yards on 20 carries.
The Detroit defense sacked Packers' QB Matt Flynn seven times, held RB Eddie Lacy to 16 yards on 10 carries, and gave up just 126 total yards. The Green Bay offense didn't have 100 yards of offense until the fourth quarter when Flynn hooked up with WR Jordy Nelson for a 56-yard gain.
In Dallas with QB Tony Romo suffering from a virus, the Dallas running game took control as Lance Dunbar and DeMarco Murray combined for 145 yards rushing and three touchdowns, all scored by Murray.
Dallas fell behind early as they fumbled on the opening kickoff and the Raiders Greg Jennings scooped up the football and returned it 23 yard for a touchdown. Two Rashad Jennings rushing touchdowns put the Cowboys down 21-7 late in the first half, but the Cowboys ground game wore down the Oakland defense.
Murray, who finished with 63 yards on 17 carries, scored on runs of 2, 4, and 7 yards. Dunbar, the backup, led the way with 82 yards on 12 attempts. Even under the weather, Romo was efficient enough finishing 22-of-32 for 225 yards and a four-yard TD pass to Dez Bryant. The win gives Dallas the lead in the NFC East with a 7-5 record.
In Baltimore, the Ravens-Steelers rivalry continued as Baltimore jumped all over Pittsburgh and led 19-7 early in the fourth quarter. But Pittsburgh, which had won three in a row, wouldn't go away. RB LeVeon Bell scored on a 1-yard run to cut the lead to 19-14 and then a Jerricho Cotchery 1-yard TD reception from QB Ben Rothliesberger pulled Pittsburgh to within two with just 1:03 to play.
The Steelers would go for two and the tie, but Rothliesberger's pass to Emmanuel Sanders did not connect. The Ravens are now 6-6 and are still a factor in the race for a division title or a wild card berth.