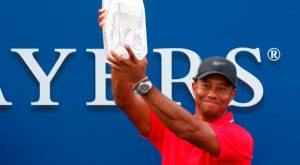 The verbal showdown between Tiger Woods and Sergio Garcia came down to the final two holes at The Players Championship this Sunday. Woods made two consecutive pars while Garcia hit three balls into the water giving Tiger his fourth championship of the young season.
The war of the words started Saturday with Garcia complaining he was disrupted by Woods' fans who had been cheering him on while Garcia shot from the par-5 second fairway. Woods responded saying that he wasn't surprised since Garcia seemed to always be complaining. The incident sparked a feud between the two as Garcia stated, "I'm not going to lie, [Tiger] is not my favorite guy to play with. He's not the nicest guy on tour."
As the two rivals headed into the final Sunday afternoon, it appeared they may have been headed for a playoff. Tied at 13-under par after the 16th hole, doom struck upon Garcia as he hit not one, but two, balls into the water on the 17th hole. Garcia, the 2008 Players champion, wound up finishing eighth after losing six strokes on the final two holes.
Woods, the 14-time majors champion, now has his fourth victory of the season and is playing some of the best golf of his career. Tiger owns a 13-3-4 record against Garcia in the 20 times that they have played together. Still, Woods refused to talk about the squabble between the two and instead chose to focus on what he had done to win.
Next up for Woods is the U.S. Open which begins June 13 at Merion Golf Club in Ardmore, Pennsylvania. Despite the poor finish, Garcia finished in the top 10 for the fourth time this season, including a tie for eighth place at the Masters. Should Garcia continue his play of this young season, it is imminent the 33-year-old Spaniard will meet up with Woods again in one of this year's major tournaments.