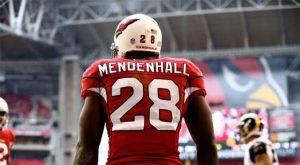 With six years of NFL experience under his belt at age 26, Rashard Mendenall has decided that it is time to call it quits. There will be no formal press conference either as the former Illinois running back told those closest to him that he was retiring from professional football. As suspicion grew, Mendenhall took to a blog post for the Huffington Post to explain his decision.
Mendenhall played his first five seasons in the league with the Pittsburgh Steelers, who drafted him with the 23rd pick in the first round of the 2008 NFL draft. He came into his own in the 2009 season when he ran for 1,108 yards and seven TDs. The following season was even more productive when he rushed for 1,273 yard and 13 scores. His production fell somewhat in 2011 and during the final regular season game with Cleveland, Mendenhall tore an ACL and finished the year on injured reserve.
He would play in just six games in 2012, a season which saw him suspended by the Steelers for inconsistent play and for not showing up to a game with San Diego. Pittsburgh did not elect to re-sign Mendenhall and he signed with Arizona in March of last year. He played in 15 games and ran for 687 and scored eight touchdowns.
Besides the ACL injury, Mendenhall suffered a fractured shoulder during his rookie season. The injury occurred when he was hit by Ray Lewis during a game against the Ravens. He also suffered from a turf toe injury last season. Injuries were one of the big factors that led to Mendenhall leaving the game.
Mendenhall did say that his passion for playing the game was still there, but he just could not stand living in the public eye. He also does not like that the professional game has shifted away from its fundamentals and has shifted more towards entertainment value. Plus, he said, he gets to live without the physical limitations of being beat up after playing years of football.
As for what he will do next, Mendenhall said that he will simply live. No longer will his life be under a microscope. No longer will his body take constant punishment. He looks forward to living without any expectations or having to represent anyone other than himself.