Tom Brady Inks Extension with Patriots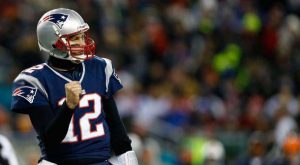 Tom Brady ink extension, The New England Patiots and their star quarterback, Tom Brady, have renegotiated the All-Pro's contract which opens up some much needed salary cap room and almost doubles the amount of guaranteed money Brady could receive.
Brady had two years remaining on his old contract and $30 million of guaranteed money. With the new contract, Brady gets a $30 million signing bonus to be paid over the five years of the new deal. The Patriots QB, who threw for over 4,800 yards and 34 touchdowns last year, will take a salary of $1 million next season and $2 million in 2014.
If Brady is on the Patriots' roster at the end of the 2014 season, he is guaranteed the full amount of the new contract, $57 million. The new deal also offers protection against a career-ending injury, important due to the fact that Brady is 35 years old and has suffered one serious injury during his career. He missed the 2008 season after tearing the ACL in his left knee.
Tom Brady inks extension
For the Patriots to challenge for a Super Bowl, it was necessary to free up some salary cap room in order to sign more talented players. Brady, of course, understands the importance of a supporting cast if New England is to get back to the big game. The new contract frees up about $15 million in salary cap space over two years for the Patriots.
Brady's new deal will surely have an impact on Super Bowl MVP Joe Flacco's new contract. However, Flacco is at a different stage of his career. Brady just finished his 13th NFL season. Flacco is just 28 years old and is at, or entering, the prime years of his career. He may never be this hot again and after his performance in last season's playoffs and the Super Bowl, Flacco may very well deserve every penny he asks for.
Even so, there will be some out there that will look at Brady's deal and wonder whether or not Flacco should maybe sacrifice for the betterment of the Ravens and not ask for $15 or even $20 million a season. Doing so, would help the Ravens re-sign a few of their veteran free agents, like safety Ed Reed. Time will tell as Flacco and his agent are currently negotiating his new contract.
Most Recommended