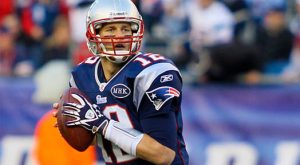 With the AFC Championship game coming up on Sunday, New England quarterback Tom Brady missed all of Wednesday's practice. When asked during his press conference, Patriots head coach Bill Belichick would say nothing more than Brady was sick.
It was the first practice that the All-Pro quarterback missed all season. With Brady out, the quarterbacking duties fell to backup Ryan Mallett. Mallett, a third-year pro out of Arkansas, has thrown exactly four passes in his NFL career and none of them came this season. Mallett took all of the reps with the first-team offense and also ran the scout team as Peyton Manning for the Patriots defense.
Brady even missed his scheduled Wednesday press conference. When Belichick showed up for his, the questions flew in about Brady's status. The normally stoic Patriots coach revealed nothing other than Brady was ill and missed practice. Both Belichick and Brady will meet the press once again Friday.
There was no action by the Patriots in the free agent market, which indicates that Brady will be fine and nothing is serious. New England does not carry a third quarterback on its roster or on its practice squad. Many teams do that and when an injury occurs to a starter, they quickly sign a third QB as insurance. The Patriots did no such thing.
New England will face Denver on Sunday in the AFC Championship. It will be a rematch of many sorts. The two teams met earlier this year. Brady led the Patriots to a wild 34-31 overtime victory handing the Broncos their second loss of the season back in November. The game also marks the fourth time that Brady has faced Broncos QB Manning in the playoffs. Brady holds a 2-1 edge. He also holds a 10-4 in the 14 overall meetings between the two future Hall of Famers.