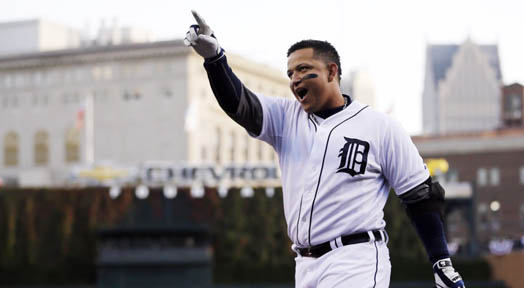 Winning the Triple Crown in Major League Baseball is a feat so rare that it is nearly unattainable; something even the great Babe Ruth was not even able to achieve. Major League baseball has only seen 11 Triple Crown winners since Ty Cobb was able to pull it off in 1909; he was the only Detroit Tiger to do so to date. Carl Yastrzemski in 1967 was the last player to win the Triple Crown, nearly 50 years ago. In 1967 Yastrzemski led the American League with an average of .326, hit 44 homers, and drove in 121 runs for the Boston Red Sox. Since then several players have led in two of those categories when the season was finished but never all three. Detroit Tigers' Miguel Cabrera has a good chance to win the American League Triple Crown with only six games remaining. Miguel Cabrera is currently leading the League in Avg. at .327, just 4 points ahead of The Angels Mike Trout. Cabrera is also leading the American League in RBI's; he is 9 ahead of Josh Hamilton of the Texas Rangers with 133. But he is currently trailing Hamilton in home runs by just one; Cabrera has hit 42 dingers this year. Josh Hamilton has been battling some injuries but appears to be back and healthy so Cabrera has his work cut out in order to capture the Triple Crown, but there is no doubt it will come down to the final game or two.
You may have noticed in the title it says MVP Miguel Cabrera, which is not a mistake but just a foreshadowing of him being name the American League MVP this season. With the Detroit Tigers recently taking over first place in the AL Central I don't think there is any question that Cabrera is in line for the MVP as he has shouldered the offensive load this season for the Tigers. Cabrera has already posted career bests in RBI's and Home Runs, with six games left and only leading the division by one game it is safe to say his work is not yet finished. Miguel Cabrera is most definitely the front runner for the MVP at this point, with Josh Hamilton and Mike Trout not too far behind. I don't see Josh Hamilton getting the majority of the MVP votes though because his average is only .286, he hits in a great hitters' ballpark, and he is part of an amazing lineup so he hasn't exactly done it all by himself. The Angels Mike Trout has had an amazing season too especially since he is a rookie but as of right now the Angels are a game and a half out of the playoffs so if they don't get in he will not get much consideration.
The Detroit Tigers' have six games remaining, three at Minnesota with the Twins and they finish up with three games in Kansas City with The Royals. Both teams are AL Central opponents but both are well out of the race and under .500 on the season. Miguel Cabrera will certainly have his chances to make his move against the two sub-par teams and possibly make history by snatching the AL Triple Crown.