U.S. Ends World Cup Run, Falls To Belgium 2-1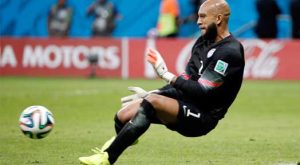 United States goalkeeper Tim Howard played brilliantly keeping Belgium off the scoreboard for 90 minutes of regular time, but gave up two goals in extra time as the Americans were eliminated from the World Cup tournament in a 2-1 defeat.
2014 US Men's Soccer Team World Cup run comes to a disapointing end
Howard had an amazing 16 saves and faced 27 shots from Belgium, whose fans were looking for some more offensive power. They got it as the Belgians attacked and attacked for 90 minutes-plus but just couldn't find the net. Howard's performance was one for the ages as he kept the U.S. in the game as the two teams headed into extra time.
It was Kevin DeBruyne who broke the scoreless tie with a goal in the 93rd minute and then Belgium built what looked to be an insurmountable 2-0 lead when reserve Romelu Lukaku beat Howard in the 105th minute. It was DeBruyne who assisted on the goal with a pass to Lukaku who was open on the left side of the net.
While it appeared that the Americans were completely out of the match and definitely going home, things got interesting when the U.S.'s youngest player, Julian Green, put them on the board. Green, who is just 19 years old, took a beautiful pass from Michael Bradley right in front of the Belgium goal and beat goalkeeper Thibaut Courtois for the Americans only goal.
Green's goal gave the U.S. some much needed momentum and the Americans almost got the game-tying score with just six minutes to play. A free kick wound up on the foot of U.S. star Clint Dempsey in front of the Belgian goal. All Dempsey had to do was to beat Courtois. That, of course, is easier said than done as Courtois smothered Dempsey's shot attempt.
It was the first time the U.S. had qualified for the Round of 16 since 2002. That was the same year that the Americans won their only knockout round match. Belgium advances to face Argentina in the quarterfinals on July 5.
Most Recommended