Wes Welker to Test Free Agent Market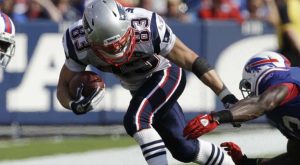 New England wide receiver Wes Welker may not re-sign with the Patriots and instead will test his value in the free agent market. Teams can begin negotiating with free agents on Saturday but cannot begin signing players until next Tuesday.
Welker was given the franchise tag a year ago by the club but New England decided not to use the franchise designation at all this year. If the Patriots had decided to name Welker their franchise player, they would have had to give him a 20 percent raise on his $9.5 million salary that he made for the 2012 season. Welker will dip into the free agent market and find out if he can still command those types of numbers.
The former Texas Tech star was not happy with the way he was treated last season and rumor has it that he and head coach Bill Belichick had their differences. While the Patriots and Welker's agent were working on a new deal to keep Welker in New England, he decided to see what the free agent market could bring.
Welker did start slowly last year but ended up leading the team with 118 receptions for 1,354 yards and six touchdowns. He is the first player in NFL history to catch at least 110 passes in each of five seasons. In six years with New England, Welker has averaged 112 receptions per year. Not bad for a guy considered too small and too slow coming out of college. Since 2007, Welker has 672 catches for 7,459 yards and 37 touchdowns.
Where could Welker wind up if he does not re-sign with the Pats? Well, he would most likely fit into an offense much like New England's. Welker is only 5-foot-9-inches and does not possess blazing speed (his 40 time coming out of college was a very average 4.6). But, he is the quintessential role-playing receiver. He has a knack for finding holes in defenses and getting himself open.
One team that may have some interest is the Detroit Lions. The Lions feature a wide-open passing offense with a great young quarterback in Matthew Stafford and the game's best receiver, Calvin Johnson. Welker would take some of the pressure off of Johnson and give Stafford another experienced option in the passing game. As for the Patriots, should they lose Wes Welker and Brandon Lloyd, they will be left with a handful of receivers with a combined NFL reception total of less than 10 catches.
Most Recommended