What Is Tony Romo Really Worth?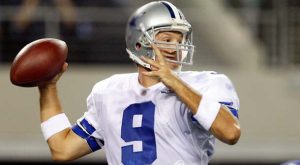 After a disappointing 8-8 season where they failed to make the playoffs for the third consecutive year, the Dallas Cowboys will work diligently this off-season to re-sign star QB Tony Romo. The problem for the Cowboys – how much will the 10-year veteran command in today's market?
The Cowboys face some salary cap issues as they head into 2013 and nothing would excite them more than to ink a new deal with their leader and get Romo locked into a long-term deal. Tony Romo currently has one year remaining on his six-year contract that he signed in 2007 that was worth $67.4 million. He is slated to make $11.5 million in 2013 under the current deal.
Looking around the league, Romo has some bargaining power when compared to say, a Matt Schaub in Houston, one Philip Rivers in San Diego, and the wunderkind Jay Cutler in Chicago. Schaub's contract pays him an average salary of $13.2 million while Rivers checks in at $14.03. Cutler, who has all the physical characteristics of a star but hasn't yet produced the big wins, is due for contract negotiations as well and may get somewhere in the $15-$18 million range.
Add those numbers to the $20 million that Super Bowl MVP Joe Flacco is looking for and Romo may be worth a lot more than the $9 million he earned this past season. Sure, Romo's lack of playoff success hurts, but he's guided the Cowboys to the postseason three times, one less than Rivers but more than Schaub (two) and Cutler (one).
The former Eastern Illinois product also blew an opportunity last season when, in the final week, he threw three interceptions as the Cowboys lost to Robert Griffin III and the Washington Redskins. The loss gave the Redskins the NFC East title and knocked Dallas from playoff contention.
Odds are that despite some of Romo's shortcomings, the three-time Pro Bowler will end up with a new deal that pays him in the neighborhood of $14 to $15 million per season. Romo will enter the 2013 season at age 34 and, barring injury, has some great years ahead. The Cowboys realize that a signal-caller with Romo's abilities is rare and will look to keep him in Dallas as long as possible. Look for a new four-year deal to get done quickly. Jerry Jones and the Cowboys' front office will want to get this taken care and turn their focus toward the 2013 NFL Draft.
Most Recommended