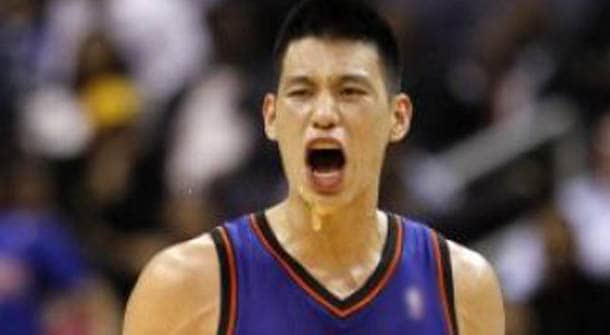 Jeremy Lin of the New York Knicks became an instant phenomenon. The social media world catapulted his popularity to the point of overnight sensation and his own moniker # Linsanity!
Jeremy Lin has created Linsanity, are you in?
Everything nowadays carries a hashtag in front of it. Twitter has created a new way to communicate. Businesses come up with slogans and commercials and end with the name and a hashtag in front. They want consumers and fans to share with their friends via social media these campaigns and slogans. Linsanity has taken on a life of its own. And although some of the initial craziness has died down, his continued strong performances have us all asking ourselves who Jeremy Lin is. Where did he grow up and where did he play college ball?
Jeremy Lin early carreer
Jeremy Lin grew up in Palo Alto, CA and attended Harvard University. He did not receive a basketball scholarship and decided to get a great education and play some hoops. He was undrafted after his eligibility was complete. He did sign as a free agent with the Golden State Warriors then with the Houston Rockets before landing with the Knicks. He has been sent down multiple times to the D-League which is the NBA's developmental league.
In February of this year he was promoted to the starting lineup for the Knicks and sparked an impressive winning streak. He set an NBA record for most points scored in his first 5 starts just nudging out Shaquille O'neal. He also set an NBA record for consecutive games started with 20 plus points 7 or more assists in his first 5 starts. Heading into March, the Knicks are still playing well, despite a recent string of losses to power teams like the Spurs and Mavs. A few injuries took out key Knicks players, and yet, Lin's defense helped keep New York in the game until late.
Is Lin the real deal?
The media has had a field day with Linsanity. It even cost an editor his job with ESPN and a TV personality a suspension. Unfortunately for the guys at ESPN they have been punished for mistakes in judgment for footage of the Knicks win over the New Orleans Hornets that carried a caption that contained a racial slur. The questions have been posed, do the remarks constitute the punishment? In our ability to share information globally at the drop of a hat we must be careful what we say. The rapid and severe public backlash again alludes to the meteoric rise of Jeremy Lin and his overnight celebrity.
He was chosen to play in the Rising Stars All-Star Game and some media outlets said he deserved to play in the All-Star Game. Right before the All-Star Break the Knicks played the Miami Heat and they shut Mr. Lin down. What does that tell us? He is a good young player that still must develop his game. I heard an interview with Magic Johnson on Jeremy and he said the kid will learn and will get better. "A couple things he brings to the game are his fearlessness and vision to see the whole floor. He delivers the ball to players in great positions to score." As he develops as a player and gets more adjusted to the NBA game he will cut down on his turnovers and learn to pick his spots. It is a great and exciting story. A player who seemingly no one knew about gets an opportunity and takes advantage of it and has a meteoric rise to stardom. The question now becomes can he improve and will he sustain it?