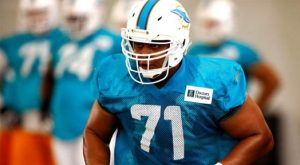 The Jonathan Martin saga continues as his employer, the Miami Dolphins, has until 4 p.m. today to remove him from the non-football related injury list or the offensive lineman will be unavailable for the remainder of the season.
Martin has been the focus of a developing story of hazing and bullying in the National Football League. Richie Incognito, Miami offensive lineman, was suspended by the team on Sunday night for what was termed conduct detrimental to the team. It was revealed that Incognito had been harassing Martin repeatedly causing the second-year pro to leave the team last week.
The Dolphins organization and the NFL are now in possession of text messages and voice mails sent by Incognito to Martin. Incognito used numerous racial slurs and derogatory language aimed at Martin, even stating, "I'll kill you." Incognito was suspended indefinitely and it appears that his days in Miami are finished.
Incognito started all of the Dolphins' eight games this year. He will be replaced by backup Nate Garner. It may be cheaper for the Dolphins to keep Incognito suspended for the entire year than release him. If he is placed on waivers, the team will owe him the balance of his contract said to be around $3.4 million. However, the nine-year pro might be more of a detriment if he is still tied to the team.
It's not the first time that Incognito got himself in trouble. In 2009 while a member of the St. Louis Rams, he got into a verbal altercation with then-Rams head coach Steve Spagnuolo over two personal foul penalties. While in college at Nebraska, he was suspended for the entire 2004 season for several off-the-field incidents. Incognito is routinely in the top five in voting for the NFL's dirtiest player.
Dolphins head coach Joe Philbin took responsibility for the culture that exists in the Dolphins locker room. Philbin, normally reserved, was emotional in his statement comparing the situation to his children going to school. He has faith in the school administration to make sure that his kids are treated well and believes it should be no different in the locker room.
There has been no indication that Martin will return to the Dolphins. The two-time All-American at Stanford is the son of two Harvard-educated lawyers. His father is currently a professor of criminal justice at California State University-Dominguez Hills.