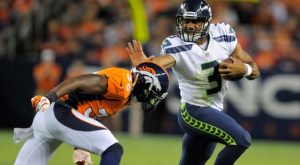 A year ago, the read option, a scheme that involves the QB reading a defender and then possibly running the football, took the NFL by storm. Quarterbacks like Colin Kaepernick of San Francisco, Russell Wilson of Seattle, and Robert Griffin III of Washington forced defenses in the league to defend something that they have never seen. But, will the trend continue?
The NFL's weekly rules video was disclosed to the media this Thursday and the contents have some implications for teams that run the read option, also known as the zone read. The league's vice president of officials, Dean Blandino, went through several read option plays and illustrated when a QB who is in the act of running the read option can be hit.
Blandino's comments may affect those teams that utilize the scheme. "The quarterback can be hit like a runner until he's clearly out of the play," said Blandino in the rules video. What that means is that a QB who makes his read and carries out his fake can be hit as if he were carrying the football.
Similar to high school and college teams that run the read option or even run the triple option, quarterbacks that run the play are often the target of the defense. Defensive coordinators at all levels will tell you that hitting the quarterback is essential to defending this type of option play.
San Francisco 49ers head coach Jim Harbaugh disagrees. "I believe that when a quarterback is handing a ball off or faking a ball…in the read option case, he's reading on an option play and he's as defenseless as a quarterback who's in the act of throwing," said Harbaugh.
Clay Matthews, Green Bay linebacker, believes that this interpretation of the rule will force teams to use their QB as a traditional, drop-back, in-the-pocket passer. "One of the things that the referees have told us is that when these quarterbacks carry out their fakes, they lose their right as a quarterback, a pocket-passing quarterback, the protection of a quarterback," Matthews said.
The Packers face Harbaugh and the 49ers this Sunday in the season opener. The 49ers' offense is led by Kaepernick, who is very adept at running the read option. Matthews and the Green Bay defense will look to get hits on the former Nevada star all night. "I think that's exactly what we're looking for," said Matthews. It will be interesting to see if the rule interpretation will have an affect on the running of the read option.