Yasiel Puig: The Next MLB Star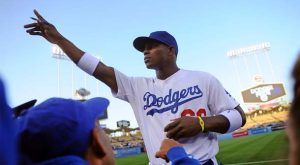 In his first week in the majors, 22-year-old Yasiel Puig has made quite a name for himself. The Los Angeles Dodgers' rookie has 13 hits in 28 at-bats, a .464 batting average, four home runs and 10 RBIs. And the next MLB star is just getting started.
Puig, a native Cuban, played for national team of Cuba as recently as 2011 and defected to the United States just last year. The Dodgers signed the outfielder on a $42 million seven year contract and he has showed his promise ever since.
After signing with the Dodgers in June of last year, Puig was assigned to LA's Arizona Rookie League team where, in nine games, he batted .400 with four homeruns and recorded 11 RBIs. In August, he was moved up to the Class A-AdvancedRancho Cucamonga Quakes in the California League. In 14 games he wound up hitting a .327 average.
After a strong showing this spring, Puig was sent to Chattanooga in the AA Class Southern League. In 40 games, his batting average was .313 with 8 home runs and 37 RBIs. Then on the 2nd of June, Yasiel Puig got the call that he was going to the bigs.
Just last Monday, the 6-foot-3, 245-pound Yasiel Puig made his major league debut going 2-for-4 and recording an assist from the outfield on a game-ending double play. Puig went on to hit 2 homers in his next outing, the first in Dodger history to record more than one home run in his first tow games.
On Thursday in a game against Atlanta, Yasiel Puig recorded a grand slam and the next day hit his fourth home run this put him as only the second Dodger to hit four homers in the first 5 games on the team.
Puig is still raw and has much to learn about playing major league baseball. About the only barrier Puig has faced in his short career is language, something that he will probably pick up as quickly as he has major league pitching.
Most Recommended