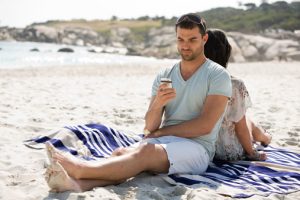 The summer is officially here and now is the time to change up your wardrobe and bring a little excitement and the air of "effortlessly cool" with a few well placed clothing items, accessories and grooming routines. Take a look at these 6 summer style tips for men that will help you stay stylish and handsome through the summer.
Wear a Little Color This Summer
Summer is the perfect time to get away from the drab, dark colors of winter and incorporate some vibrant colors here and there into your style. No need to go overboard with every color under the sun, but a little orange here, a little red there or a pop of yellow somewhere else. From a dusty burnt orange t-shirt while hanging out with friends to a fire-engine red tie at work, bring in a little color to replace the dark blacks, browns and blues that you've worn throughout the winter.
Change Your Cologne to a More Summer Inspired Scent
Just like your wardrobe, your cologne should change along with the season as well. Find a cologne that inspires summer such as a light citrusy scent that makes you think of the Florida coast or a crisp woodsy scent that makes you think of summers at the park. Make it light and refreshing, just enough to make you smell great, but without overpowering those around you.
Cut Your Hair into a New Style and Re-cut it Every 2-3 Weeks like Clockwork
When the summer comes oftentimes men want to cut off a little hair to keep themselves cool and stylish even in the sweltering heat and this year is no exception. This is a great time to mix up your hair cut styling and go for something a little more fun or young-ish looking such as a faux-hawk style or a short, spiky look that takes little effort to style. Make sure to re-cut it every 2-3 weeks to keep the style in shape and keep from growing so long that it brushed your neck and leaves you sweatier during the day.
Don't Let Your Body Hair Get Out of Control
The same with your head hair applies to body hair, keep it trimmed, shaved or waxed to keep looking stylish and to keep from overheating during the heat of the day. Shave your neck and back, trim your chest hair so it isn't bushy, keep your crotch hair in line and so forth.
Only Wear Flip-Flops When Going to the Beach
All too often men turn to flip-flops as the go-to summer footwear and this is just a big no-no. Unless you're heading to the beach, the cheap looking footwear just makes you look childishly young and keeps you from achieving a cohesively stylish look no matter how well you dress in every other aspect of your outfit.
Find a Favorite Accessory and Stick with It
From a great hat that protects your face while looking stylish to a fashionable watch or a handkerchief worn as a pocket square, a favorite accessory can add a little character and personal style to your wardrobe choices that expresses you perfectly during the summer. It's good to have one or two accessories, but try not to overdo it and load yourself down with hats, watches, ties, belts, etc that can muddle the entire look very quickly.