Chocolate For Making Love Sweetly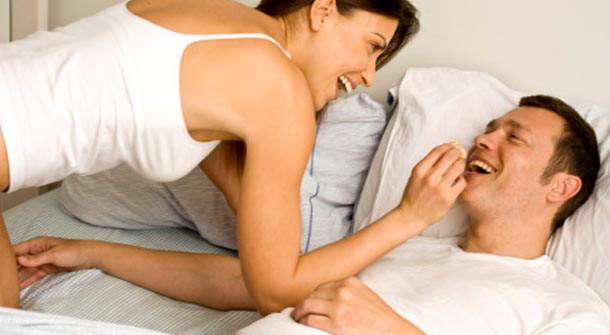 Whether you're a chocoholic or you know someone who is (and hey, who doesn't?), there's a variety of ways to sweeten up your sex life with the delightful taste of chocolate. Men and ladies both love chocolate flavored body powders. They dust on lightly, sometimes with a bit of shimmer, and when kissed off deliver the unmistakable yummy-ness of chocolate.
How to Bring Chocolate into your love life
Those with a bigger craving find chocolate body paints to be very sensual. They usually melt up in the microwave and then get applied to the body with paintbrushes or small Popsicle sticks. What's particularly intoxicating about body paints is the variety of chocolate flavors available. Dark, milk, white, cherry, orange and even almond flavors are all popular choices.
Try writing each other secret messages in body paint like "kiss here" or "nibble this" for an enticing treat. Just be sure to lay down some towels or use old sheets. Chocolate stains can be unsightly and difficult to remove through normal laundering. Still other couples find that chocolate-covered undergarments or toys can be lots of fun. It does have some aphrodisiac impacts, especially when take out from true cocoa.
Sexy health benefits of chocolate
As per the nutritionists, what you eat can have a extra ordinary affect on sex life and making few simple changes can spice up the relationship. Based on few researches it has been found that men who use to have sex multiple times during a week can improve their circulation which surely gives them healthy blood vessels.
Dark chocolates improves serotonin and dopamine levels in the brain which makes us happy and of course puts us in mood. There is biological basis for it's sexy effects. So if you want to have a night to remember then forget about roses and jewelry. This is one of the best food for your sex life. Make your sex life and relationship more passionate using dark flavors and share lots of love with your companion.
Most Recommended