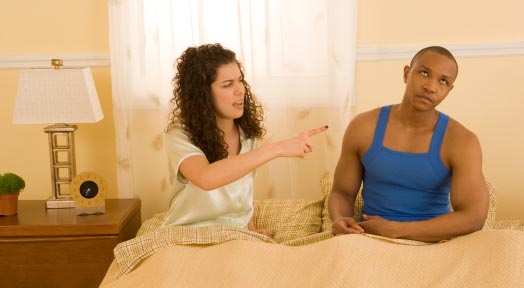 When you're living with and loving a nagging woman that's particularly critical of almost everything you do, it's easy to take the defensive approach, lash out and seek the right moment to get her back. There may be immediate gratification in doing all of this but the lasting effects on your relationship are anything but. If you want to try some effective ways to minimize a nagging woman, try these approaches:
Preemptive Strike
This is for the man who knows how to spot, stop and soothe. If you've got the guys over and the place is a mess, take a few minutes to clean it up. If it sounds really easy, that's because it is. Surprisingly you can get more done in those five minutes before she comes home than you probably do all year. And to have a nag-free night, it's worth it.
Give Her Your Deadline
Taking out the garbage seems to be a deal breaker and the source of many arguments. If you're in the middle of something, then use the lull in your activity to get the task done. For example, if you know that half time is coming up, tell her that you'll do that task during that time frame and then do it. That's the catch; you have to follow through. You're showing her that you're a man of your word and that she can trust you.
Listen and Learn
Yeah, this one is a tough one because it may not be some men strong suit but just think about it. If your girlfriend or wife is nagging about the same thing over and over, then maybe there's a clue as to what's really at the heart of her constant complaining. Is she nervous about you hanging out with your friends because she's insecure or maybe she's afraid you're taking her for granted? Some fights aren't always just about your bad habits like not doing the dishes or picking up your dirty laundry. Subtext is a whole different language that women have mastered and if you take the time to learn it, you'll be the envy of many.
If you've tried surprising her with sweet gifts, kissing her, apologizing, shaping up, just about anything and everything to get her to stop nagging, that may be your cue to take more decisive actions. It's never easy to end a relationship but if that's what it takes to make you a happier person, then you need to move on and find someone who can appreciate you.