How To Propose To Your Girlfriend Step By Step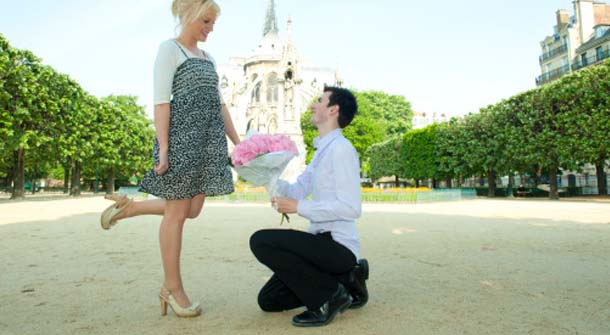 There are several ways to tell if your relationship is on the fast track for you to propose, and several things to ask yourself if you're a little unsure. First of all, do you have "the feeling?" The one deep down in your soul that tells you this is right, and she's the one?
Knowing when to propose and how
That feeling is hard to pin down, and hard to explain to someone who hasn't experienced it yet. But once you have it, you know. You have peace that you're making the right choice. And if you're still feeling anxious even though you know, don't worry; being nervous about proposing is not the same being as doubtful about proposing. Getting the jitters about any huge life decision is normal, even if you're sure it's the right one. Maybe you know you want to marry your girlfriend. But is it the right time to propose? There are some practical points to consider before you decide.
Are you ready?
Are you ready financially? Are you ready emotionally? Do you know her well enough to share your whole life with her? Do you really understand the implications of committing yourself to one person for a lifetime? Remember, while you undoubtedly love your girlfriend and think she's the best thing since sliced bread, marriage means combining your finances, sharing your private space, dealing patiently with one another's quirks, and sharing the tedious and boring responsibilities that come with day-to-day life as grownups. It requires serious commitment. Love will have you cruising through the great moments, but only commitment will get you through the harder times, which inevitably do arrive.
Is she ready?
In spite of the unfair stereotype that still lurks around in the Myths of Men, not all guys are commitment-phobic. While some guys are more cautious than others, most guys are fine with committing when they know it's right. Some really romantic guys can't wait to propose. Which means that, in some cases, men run find themselves ready to take the plunge before their intended brides. If you haven't already agreed that you're both on the marriage page, bring up the topic of marriage to feel her out. If she seems panicked, or indifferent, or very hesitant about the idea, she may not be ready. And you never, ever want to propose without knowing she'll say yes.
Once you've decided that This Is It, it's time for the actual proposing part. We've got some tips for you to ensure things go smoothly.
 Choose a ring you can afford.
If she's the right kind of girl, she will not want you to go broke buying her a ring. She will also likely prefer something meaningful—meaning that you took the time and trouble to figure out what she liked—over something that's clearly expensive but not "her." Remember, you can always upgrade on a future anniversary or birthday.
 Ask her dad.
It says volumes for your character and your sentimental side.
 Be meaningful
Go back over your relationship and find the meaningful moments, like your first date or first kiss. Build your proposal around these.
 Include things that are important to her
Incorporate small children, pets, or beloved family members in the proposal if possible.
 Keep it a secret
Keep your plans a secret as much as you can.
 Keep her personality in mind
Be thoughtful and consider what your girlfriend would prefer when you propose. If she likes attention, a public proposal may work. If she's a private person, getting proposed to in public could offend and embarrass her.
 Low key can be good to
A proposal doesn't have to be major, just meaningful. Sure, you can pull out all the stops and hire the horse-drawn carriage. And that may work for you guys. But a low-key, intimate proposal can be just as wonderful and memorable.
Most Recommended