Proposing: Do's and Don'ts of Popping the Question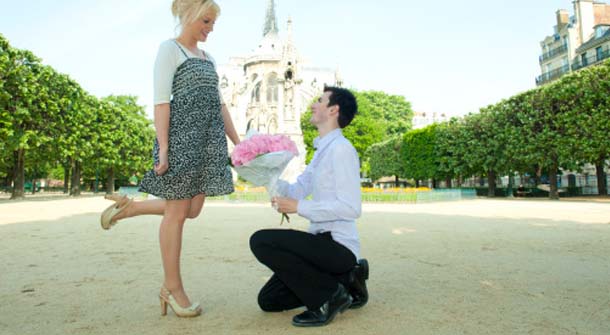 So you've found a woman who is smart, beautiful and is willing to let you see her naked… and you're ready to pop the question. When this time comes every guy wonders how to go about proposing with questions like "Should it be on one knee?", "Do I need to get her father's blessing?", "Do I get the ring first?" and so much more. The art of proposing is a romantic and memorable way doesn't come easily to all of us, so here are a few dos and don'ts of proposing that can help you ensure that you do it exactly like she envisions it and without any problems popping up in the middle.
Proposing dos and don'ts of popping the question
Do Test the Waters First
One big thing you need to remember before asking that life changing question is to make sure you are both ready for marriage. By testing the waters first and seeing if she is open to you proposing you can ensure that when you're down on one knee with a pricey engagement ring bill on your credit card that her answer will be "Yes, of course I'll marry you!", not "You're a guy nice, but I'm just not ready…" Avoid the embarrassment and trouble by mentioning the future, asking where she sees herself in 5 years, asking roundabout questions on marriage, etc.
Don't Make it a Public Event
When most men think of a proposing they probably think of a guy getting down on one knee in a crowded restaurant or on a big jumbotron at a sports event, but the reality is that most women want an intimate and private proposal rather than a big, splashy scene out of a Hollywood movie.
Do Make it as Personalized as Possible
Sure, the act of you proposing is going to be wonderful in and of itself, but the more personalized you make the asking the more she will fill loved and sure of her answer. Every girl dreams about how it will happen and usually has a few ideas on what would be perfect, and more than likely she has shared it with her friends, so ask around and start forming a plan of how to make it happen. Include things like her favorite foods, a favorite singer/band, a special spot that she loves, etc.
Don't Go Corny and Hide the Ring in Some Food
This common way of proposing may be a big hit in movies and TV, but in the real world the ring gets lost, she accidentally eats it, chips her tooth on it or the waiter takes it to the wrong table. It is a tired way to propose, so scrap the idea and look for a more original idea that doesn't end in a trip to the emergency room.
Do Tell Her the Reasons Why You Love Her and are Proposing
A common mistake that men make when they propose is getting stuck in the practical act of proposing rather than letting their hearts do the talking. Don't give her a stiff and practiced one line proposal, tell her in detail how you came to the realization that you wanted to spend the rest of your life with her and why. "Will you marry me?" is a great ending to a proposal, but figure out how to start it and get to that point and sweep her off her feet while doing it.
Don't Jump the Gun too Early
Even if you knew that she was the girl for you since the moment you met her make sure that you don't jump the gun too early. Proposing too early in the relationship can cause a wealth of problems from insecurity when she turns you down to an impetuous "Yes" that is later rescinded when the romantic moment is over. Wait until the right time in your relationship so that everything goes smoothly and you both are in love and ready for marriage.
Most Recommended