The Best Condom Brands For Men To Try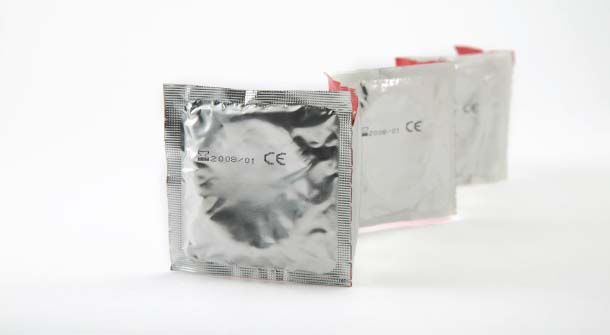 Almost no one prefers to use any condom brands during sex as opposed to not. That having been said, it's still the best way to prevent both sexually transmitted diseases and unwanted pregnancies. Until that changes, the import thing is to use the right condoms. That means finding one that does its job, but also doesn't get in the way of pleasure. So which are the best condom brands out there? Here are some recommendations.
The best condom brands to protect both of you
Crown Skinless Skin Condoms
First, let's consider Crown Skinless Skin Condoms. Many find these to be the most comfortable condoms. They are slightly larger than the average condom. They are made from ultra thin latex and many feel it's like not wearing one at all. Plus, there isn't the usual latex smell. Despite being ultra thin, they still perform well and are reliable.
Durex Extra Sensitive
Durex Extra Sensitive is another fan favorite. It is the thinnest in Durex's line of condoms. It's an extremely dependable condom. Also, it has a wider head than some of its competitors which can mean a little extra comfort for you.
Beyond Seven Condoms
Beyond Seven is another brand to consider. They use a special type of latex to ensure the thinnest possible protection without compromising quality. This Japanese company will also have you forgetting that you put anything on at all. Unfortunately, they may be a little slim fitting at the head. Other than that, this is a great choice.
Kimono Condoms
Kimono (are you noticing all the Japanese brands here) also makes an ultra thin condom. It will have you and your partner both wondering if your remembered to put it on. The catch is, you're going to want some personal lubricant along with this one. When they say ultra thin, they aren't kidding.
Impulse Bare Pleasure Condoms
If you want an extra advantage, you can go with Impulse Bare Pleasure. The condom is both studded and ribbed, so she's sure to have a good time. It may not be quite as comfortable for you, but a little lube will cut down on the friction. You may decide it's worth it to provide a little extra pleasure for her.
Trustex Extra Large Condoms
Some guys need a little more room in there. Trustex Extra Large is just right for you. Unlike most oversized condoms, this one actually feels good for the wearer. The only thing is, it will just feel like a normal condom to her. So don't go with this one just to boost your ego.
Those are just 6 of the many award winning condom brands out there. Find the one the works best for you and your partner, and be safe.
Most Recommended