Best Condoms Safety That Feel Like the Real Thing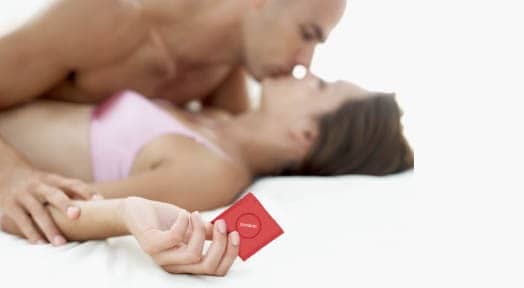 Looking for the best feeling safety condoms on the market? First things first, let's face it men hate condoms, It's a fact. We hate them because they make us feel like we are wearing a garbage bag and they get in the way of our overall pleasure. But to be fair, with all the condoms available today it's a stretch to say there aren't any good feeling condoms out there. In fact, there are quite a few. We have gathered up a list of the top 5 best feeling condoms available to men today for you to analyze and hopefully use the next time you find yourself needing some birth control.
Top 5 Best Feeling safety Condoms
1. Durex Extra Sensitive Condoms.
This is super thin and felt as close to being the real deal as any other item on the market. If you want to feel sleek and slide right into her then this is the right condom for you. Many men actually report that this condom helped them get and maintain an erection before and throughout sex.
2. Trojan ThinTensity. 
The name says it all. Trojan's new condom is now 25 percent thinner than its standard condom. This gives you more intensity and greater feeling during sex. Additionally, the condom has a low latex odor so it does not make you feel like you are wearing a surgical glove to the bedroom. If you hate the smell of latex and want to be able to feel your entire girl then this is a very good option for you to consider. She will appreciate that you smell natural and will be impressed that you remembered the condoms .
3. Natural Lamb from Trojan.
If you want to feel every inch of your partner and if you aren't worried about STD's because you are in a committed relationships then give this condom a go. It feels like a second skin because it is actually made of animal membranes. Its flexibility allows you to move and perform the way you want to without holding back. Men who've tried this condom tout how great and all natural it feels.
4. LifeStyles SKYN.
Even though it isn't an ultra thin like the rest on our list, LifeStyles SKYN makes you feel like you aren't wearing a condom at all. It comes complete with a self lubricant that gives you both an amazing feeling. If you want her to feel and enjoy sex as much as you are then try this condom out for size. Bonus: If you or your partner is allergic to latex then you will love this one. It is made from polyisoprene. This material is as strong as latex without the smell or the allergies.
5. Crown Skinless Skin. Condoms safety
These are the porn stars. No really, porn stars use these more than any other kind. Known for their thin structure and non-latex smell, skinless ones are perfect for making you feel closer to your lover. You will feel like you are riding bareback and she will have comfort knowing there is a barrier between your soldiers and her egg. Try them out to discover what the pros have known for years, that these are the best around!
Most Recommended