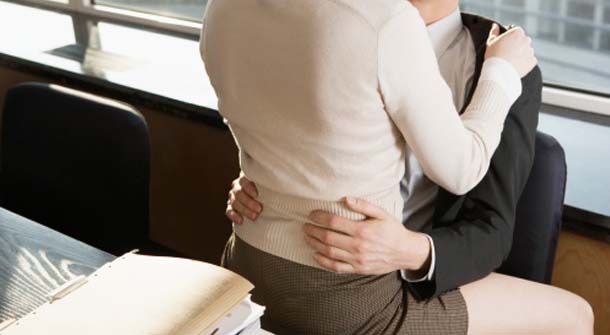 Most men agree that defining and limiting sexual harassment in the workplace was, and still is, a good and necessary thing. As cool as Don Draper may be, the atmosphere for his female co-workers was barbaric – bottom pinching, comments about bust size, demands for a kiss on the cheek (or more) – all things both genders are better off without.
Here's why sexual flirtation is so tricky at the office.
However, sexual harassment remains a difficult social situation in workplace environments because it is, to a large degree, speculative and a matter of opinion. What one woman or co-worker deems as harmless flirting, another finds offensive and demeaning. It can leave a guy feeling like he can't say anything at all – even if his intentions are pure – for risk of getting yanked into the HR department for a video and lecture on sexual harassment. But what if there really is a genuine attraction between you and a co-worker? Or what if you want to find out if that's the case? Have hope, civilized men, there is a way to speak up in a positive manner.
Compliments
If you're just meeting someone new, and you want her to know you find her attractive, start with simple compliments... "I like that hairstyle," or "that dress really makes your eyes look blue." Sounds boring, but the point isn't to tell her she's got rocking legs or a slammin' rear end. The point is to make her aware that her appearance is something you notice. Keep your comments simple statements of fact (and not your own personal opinion) and you should be in the clear.
Conversations
If you really want to develop anything like a dating relationship or more with a co-worker, you've got to be able to talk about things other than sex, nudity, lewdness, porn, lingerie, etc. Try conversation topics like a popular TV show, a concert you recently attended, or a restaurant you like to frequent. Depending on the person, you may even be able to talk about shared interests like the gym or sports if you happen to notice them always leaving the office with a tennis racket or in gym attire.
Invitations
It can be difficult and unexpected for a woman to be approached for a date while at work. With subtle work-safe flirtations going on, she may not be completely aware of your interest. Start by inviting her along with a group to lunch, and then gradually decrease the size of the group... the day will come that not everyone can make it or you can offer to go pick up lunch for the group and invite her to come along with you. Once you've had some casual one-on-one time, you can better gauge her interest level and see if you can follow it up with an invitation to do something together after work.
NEVER
Express feelings in writing/email, communicate what you "want" or "want to do" to or with her, comment on body parts, initiate any touch more than a handshake, or discuss her merits with other co-workers. These are just recipes for disasters you're better off avoiding because even if she's "cool with it" there may be other co-workers nearby that aren't and then you're back in the hot seat.