What to Wear on the First Date According to Expert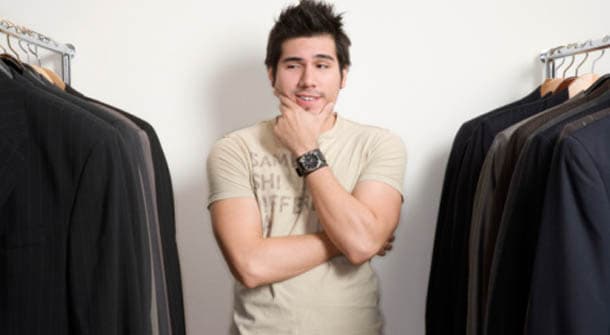 Part exclusive social event, part interview, what to wear on the first date can be intimidating. What you choose to wear can tells a woman much more than whether or not you're a stylish sort of fellow. It tells her about your personality, your social skills, your level of self-respect and – most importantly, your level of respect for her. With so much riding on this one outfit, it's understandably tough to know what to choose. Fortunately, we've got some tried-and-true fashion standards that will relieve some of your anxiety.
What should you wear on the first date
Treat the date like it truly is a special occasion. In fact, we'd suggest you do this for all your dates, first or otherwise. Put some thought into what you wear and groom yourself well. Keep in mind that women notice everything, from your fingernails, to your socks, to that ear hair you're in denial about.
Remember the basics. Here 's a rundown of basic men's fashion rules, in case you need a refresher:
1) Wear dark socks with dark shoes, and light socks with light shoes.
2) Match your belt to your shoes.
3) The color of your shirt should show up somewhere in your tie (if you're wearing one, see more on that below), within a couple of shades.
4) The point of your tie should just touch the top of the waistline of your pants.
5) No short shorts ever… EVER.
6) Fit is absolutely essential. Clothes that are too large look sloppy, and those that are too tight look – well – sad. Clothes that fit perfectly make you look pulled together, no matter what you're wearing.
7) Flat front dress pants, please. No exceptions.
Consider the venue, and dress appropriately.
If you show up in a tie for a casual oceanfront lunch, you'll come across as too eager and a little clueless. If you show up to a 5-star restaurant in sandals, clueless is about the best you can hope for. When in serious doubt, visit the venue, if possible, beforehand, and see what the gentlemen are wearing. If that fails, a good all-purpose outfit for a casual date is a button-down shirt, a sport jacket, dark-wash, straight-leg jeans and slip-on loafers or Oxfords. A good dressy outfit is a pair of dress pants, a button down shirt, a blazer and dress shoes.
Ditch the tie
A tie isn't actually necessary for most date venues, and in fact, can come across as a little stuffy. Unless a tie is required at a certain venue, or you are going to a formal event that warrants one, skip it because again what you wear on the first date say a lot about you.
Let her shine
Remember it's about respecting her, not showing her what a stylish catch you are. Be well-dressed enough to show her you know your way around a department store, but not so chic that you come across as unapproachable – or worse — self-absorbed. Shoot for "down-to-earth, yet dapper."
Keep it real, but reign it in
Yes, you want her to see "the real you." But that doesn't mean she needs to see you in an Ed Hardy shirt to know that you're edgy, or in your favorite message tee to know you've got an ironic sense of humor. The style, cut and colors of the clothing that you choose say much more about you than you think. And in the end, your clothes should be an invitation for her to get to know the real you better, and thusly, should leave something for her to learn about you on the second date.
Most Recommended