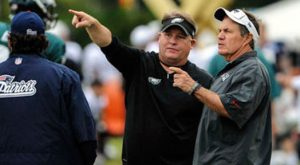 A full slate of games Friday highlighted the 2013 NFL Preseason first full of week of football as teams around the league work to fill their 53-man rosters by the end of the month. In a much anticipated debut, new Philadelphia Eagles head coach Chip Kelly suffered his initial defeat, 31-22, at the hands of the New England Patriots.
It was Kelly's high-octane, up-tempo offense that everyone around the league has been buzzing about. The Eagles didn't show much of the entire package but did offer a glimpse into what is to come. Michael Vick started the game at QB for the Eagles, but it was second-year man Nick Foles who led a drive that displayed what the Philadelphia offense can do.
Foles completed five of six passes on a 10-play drive in which resulted in a 66-yard scoring drive. The Eagles did not huddle on seven of the plays, and Foles was in the shotgun for every snap. He even ran the ball for 10 yards on the drive.
Elsewhere around the league, the highly anticipated competition between quarterbacks Mark Sanchez and Geno Smith of the New York Jets got underway Friday night. Sanchez started terribly. On his third pass attempt, he under threw a screen attempt that went directly into the arms of Detroit Lions DE Ziggy Ansah, who promptly returned the errant throw for a touchdown.
Sanchez did, however, lead the Jets on a seven-play, 80-yard scoring drive later in the first half. He would finish the game 10-of-13 for 125 yards. Smith entered the game early and went 6-for-7 for 47 yards. He left the game in the third quarter when he rolled his ankle attempting to make a cut. It remains to be seen how serious the injury is.
Of the eight games Friday night, five featured new head coaches. Four of those new head coaches, including the previously mentioned Chip Kelly, suffered a loss in their first outing. The only new head coach to win was Bruce Arians, the new head man in Arizona.
The Cardinals played great defense and appear to have found the QB that can lead them back to prominence in Carson Palmer. The former Bengal played three series, went 4-for-6 for 77 yards and a beautiful 38-yard TD throw to Andre Roberts. The Cardinals beat Green Bay, 17-0.