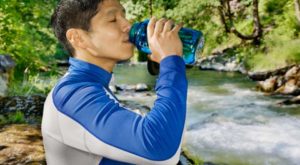 If you are someone who trains on a regular basis then you will no doubt be very aware of the absolute necessity for regular hydration. Not only during your workout while you train but also generally throughout your day. It is recommended that you drink a gallon of water a day or ten glasses. Without this regular hydration there are many different complications that can result from dehydration. They range from simply being unable to perform at your best to fatigue, muscle, dizziness and worse. But buying water can quickly get expensive and this article will be looking at the best water bottles to carry on your workouts.
During your workout drinking three to six ounces of water every 15 to 20 minutes will keep you hydrated. However if it is hot or humid you will need to increase this amount. Drinking water while working out is important but you should also drink before and after.
Without a doubt one of the best water battles tested by selected trainers was the Contigo AUTOSEAL Water Bottle, 24 Ounces. The reason why the Contigo Auto-seal was shown to be a favorite water bottle was not only because it looks good but it does not have a lid or spout to open so you only need one hand free to use it.
Simply press the button to drink from it and when you are finished it re-seals itself so there are no leaks or spills. It is dishwasher safe for easy cleaning and does not retain odors like some plastic bottles. The next recommended water bottle that is also 24 ounces is the NALGENE Tritan OTG BPA-Free Water Bottle.
The Nalgene Titan is sized to fit the average cup holder, treadmill machines and other exercise equipment. It uses a flip top lid that can be used one handed and the lid does not get in the way when drinking. It is stain resistant and odor free as well as having no BPA's. These are the nasty chemicals in some plastics that can leach into the water.
The last recommended training water bottle to be mentioned in this article is also BPA-free which an important consideration is when using plastic of any description and that is why stainless steel is also recommended. However the last water bottle is the CamelBak Podium Bottle.
The best feature of the CamelBak Podium is that it has a HydroGuard inner lining to prevent the growth of bacteria. It uses a Jet Valve which is self-sealing and you can drink from any direction. It has a high flow rate and is available in 21 or 24 ounce sizes.
In conclusion a short note on replacing water with a sports drink can not only be expensive but will also have a lot more calories than water which has none. But most sports drinks will have electrolytes such as potassium and sodium, which help retain the fluids that are lost through sweating.
So it all depends on what type of exercise you are doing and for how long. Because water is fine for a thirty minute workout but if you are exerting yourself for long periods of time it's best to go with a combination of a sports drink and water.