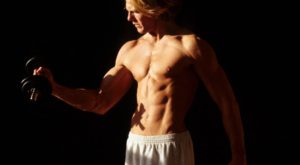 It's like a light switch that goes off where everything becomes robotic. No more eating out. No more having just a little more food because you're hungry that day. Your diet is set. Your cardio is set. Your training is set. You know what you need to do. You are like a machine and for the next 3-4 months (usually anywhere between 12-16+ weeks), that's how things will be. Every ounce of focus… every ounce of energy will go into preparing for your bodybuilding contest.
Lucky for me, I was essentially on a bodybuilding diet for more than a year, so I didn't have to get reused to taking in 6-7 meals a day. The only difference now is that EVERYTHING is to a "T." Nothing can be skipped. Nothing can be put off.
If I wasn't so lucky, I would be using the first week or so of prep to get that schedule down. Eat every 2-3 hours. Make sure training and cardio are scheduled in my day. If I have to go out during the day – to the park with my girls, to the mall, run an errand, even to the movies – I need to make sure I have all of my meals and supplements with me. You've got to do some major planning, but it can be done.
One goal. One mindset. My goal…to win my weight class and earn a pro card.