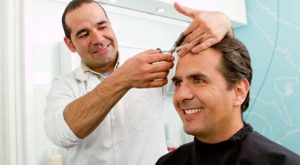 When you think about business men you generally imagine a good looking guy in a smart suit groomed to the max. You may even rave about his hair and how you wish you had it. But for men it can be difficult to know what style looks best, and how to make your haircut look professional. With tons of hairstyles to choose from getting a haircut can be an intimidating process. If you are business man you don't want your hair to look too dramatic or too cheesy. You need the right amount of class and sophistication to balance out your work look. We have assembled the best business haircuts for men in our list below. Check it out.
1. Groomed but not fabulous.
If you are just starting out as a business professional you want to focus on being groomed from head to toe including your hair. Stay groomed by getting your hair cut to the length of about 1 inch on the sides and back and about 3 inches on the top. This will give your hair just enough room to part it the way you would like. You should get a cut once every 2-3 months to stay looking groomed.
2. Ivy League cut.
This look is almost overkill, but in the right business environment it will work perfectly. The Ivy League reduces hair to a very short overall length with it being left slightly longer in the front. Hair conforms to the head's shape and it is a neat and tight look all the way around. You really can't lose with this haircut.
3. Layer cut.
Regardless of what type of business you work for, the layered men's haircut is perfect for business men who also like to express their creative side. It is very versatile and cuts the hair in a uniformed layered look. This is a great idea for men with fine straight hair but also works well with multiple hair types. It can be as short or as long as you wish. But the idea is to keep the focus on you.
4. Classic taper.
This haircut leaves hair long enough on top to comb or part according to style taste. But hair on the side and neck is cut extremely short and tapered. It is a great way to keep things professional at the office and let your style flow once you leave.
5. Business man's cut.
This cut is called the business man's because it is conservative. It leaves hair cut to the side and back but left long enough on the top to comb. You will most often use this style if you work for a bank or firm of any kind.