Best Crunches Exercise For Belly Fat Men To Try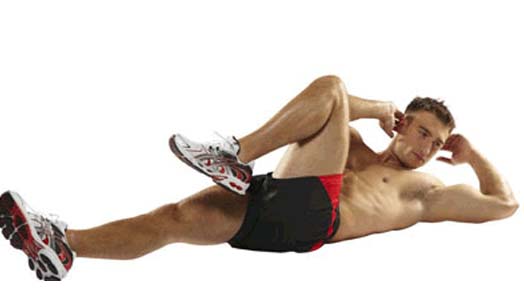 Most people wanting to lose a few pounds of belly fat are often willing to literally starve themselves or take a range of overpriced and sometimes useless supplements promising them the perfect physique in a three weeks. But a few exercise crunches that can burn belly fat fast.
Top Crunches Exercise To Burn Belly Fat
Luckily fatty tissue found around the stomach area is metabolically active and mush easier to lose than these peddling companies would like you to believe. Nonetheless without maintaining the proper nutritional diet and lowering of the calorie intake your desired goal may be further away than you would like to think.
Keep a balanced diet, do not starve yourself
Men who have occasionally opt for a strict starvation diet guided by calorie deprivation often find themselves unable to maintain their cravings when challenged in the face of their favorite meal losing all self-control and filling themselves and gaining more weight making the task extremely difficult.
The key to losing and maintaining your body weight lies not in starving yourself to death but rather in boosting your metabolism by eating a calorie-controlled diet and 45 to 60 minutes of moderate to intense exercise activity performed on a daily basis. In fact it has been proven that high impact aerobic exercise will result in the individual losing body fat around the abdominal region of the body.
Watch your calorie intake
Most fitness pros will tell you that weight loss is all about your calorie intake. If you are able to burn more calories than you take in, you'll lose weight. Conversely does your diet allow you to consume more calories than you burn off then you gain weight. Doesn't sound like rocket science right?
Well yes and no. While this may sound totally correct, the truth is the theory is only partial. The only factor known to burn calories 24/7 is the muscle mass located underneath the layers of body fat that permits a higher intake of calories without experiencing any notable weight gain.
The bodies adaptation and Fat Storing Mode
The human body by nature is known for adapting for any changes it may experience. Losing belly fat without the proper exercise increases the risk of not only losing fatty tissue but also muscle mass inadvertently slowing the metabolism process and engaging the body into what is generally termed as "fat storing mode."
Don't lose your strength crunches exercise for belly fat
Men who have lost their body fat and muscle build have often noticed that they don't have the strength potential they once had and even worse are more prone to gaining weight the minute they indulge themselves in a simple snack.
It is important that when you decide to undergo a weight loss program to lose your belly fat you understand what the requirements are to realistically achieve your goal.
Below are 5 of the best exercise crunches to burn your belly fat fast:
Four of the exercises are pretty much straight forward except for the Captain's Chair Leg raise for which we'll give a shoer but detailed guide how to perform the exercise.
The Bicycle Exercise – complete 1 to 3 sets with 10 to 15 reps
The Captain's Chair leg Raise
How to perform the Captain's Chair leg Raise –
For this exercise you'll need what is known as a captain's chair, a rack consisting of padded arms, allowing you to freely hang your legs often found at your local gym.
Begin the exercise by standing on the chair and grip the handholds to stabilize your upper body.
Press your back against the pad keeping your shoulders fully relaxed.
While exhaling engage your abdominal muscles bend your knees lifting them towards your chest.
Try to maintain a straight back by not swinging your legs upward
Inhale and slowly lower your knees to the starting level.
Complete 1 to 3 sets with 10 to 15 reps
3. The Exercise Ball Crunch
4. The Vertical leg Crunch
5. The Long Arm Crunch
Complete the Exercise Ball Crunch, Vertical leg Crunch and the Long Arm Crunch similarly in 1 to 3 sets with 10 to 15 reps. So try these exercise crunches above on how to burn belly fat fast we promise you won't be disappointed.
Most Recommended