The Gridiron Workouts: Intense But Invigorating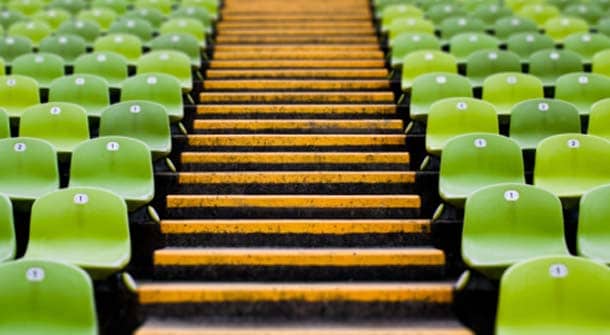 As your weekend festivities inevitably take you to a football game or two, step away from the nachos and beer for just a moment and take advantage of some special fitness activities that exist only when you visit the football field and experience one of our gridiron workouts.
Gridiron workouts for spectators
Stadiums
Even if you've got great seats, arrive a little early and take a hike up the stairs into the nosebleed section. You'll get a nice burn in your calves and quads, and once at the top, you've got a pretty cool view of the whole stadium. Do once before kick-off and again at halftime.
Hover Feet
Whether you sit in chair backs or on a bench, you can get an intense mini workout for your abs during the game. While seated, keep your legs at a 90 degree angle and lift your feet about 2 inches off the floor. Hold in place for a few minutes. Release. Repeat. If you need to, you can stabilize yourself by placing your arms on the bottom of the seat (just watch for gum).
We're #1
If you're a super fan (and we know you are), grab your favorite foam finger or sign, and see how long you can hold it overhead. Do one arm fully extended above your head until you reach exhaustion – then switch to the other arm. Take a break after you've done both arms. Repeat one set per quarter.
Do these gridiron workouts at every game you attend and switch to a light beer, and hey, heading to a football game might end up being the fittest activity of your week.
Most Recommended