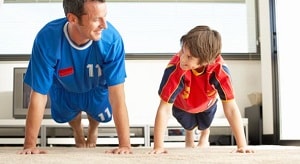 Tis the season to stay fit. We all know how easy it is to pack on the pounds from Thanksgiving to New Year's Day. In addition to cold temperatures, daylight savings time, traveling to visit family and gatherings that include indulgent foods it can be hard to keep a consistent workout schedule. But if you want to stay fit and active during the holiday season can be easier than you think with the right planning and a little dedication.
Tips to Stay Fit During the Holiday Season
Workout with the family
Weather it's a simple game of catch with your son or a game of hoops to help your daughter practice her jump shot you can get a workout and work on some family bonding time. Also think of activities to involve the whole family maybe a walk after dinner to look at the neighborhood decorations can be fun and burn major calories at the same time.
Workout around the house
Depending on where you live taking a walk or light jog outdoors in freezing temperatures can be less than desirable and not to mention dangerous. Bring your workout indoors with simple exercises that don't take up a lot of space like pushups and sit-ups. If you want to invest in a set of dumbbells you can work on lunges, squats and arm exercises just as good as you could at your local fitness center.
Keep up your workout while traveling
If you're making trips out of town during the holidays there are simple ways to fit in a workout. When booking your hotel try to see if they have a free fitness center or check ahead to see if your gym has a local branch where you can use your membership. Not only will your waistline thank you but it might even help to exercise some of the holiday stress away.