DDP Yoga by Diamond Dallas Page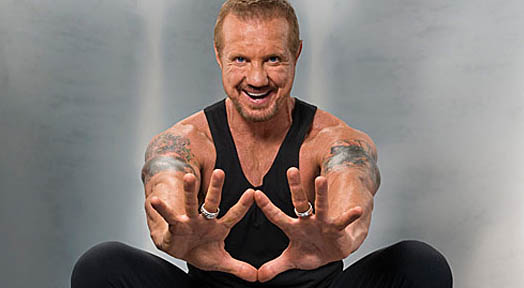 Yoga over the years has been known to offer new levels of mental, physical, and spiritual benefits, and yet it is almost impossible for the average guy to conceive that this aspect of mediation could be applicable to their daily routine and lifestyle. Many men see the development of yoga as an session filled with intense steps and deep meditation used by prenatal mothers but ddp yoga is a little different.
DDP Yoga by WWF wrestler Diamond Dallas Page
Diamond Dallas Page a professional legend in the aspect of Pro Wrestling and a fitness guru recognized by millions of both men and woman worldwide begs to differ as he has personally developed and branded his own version of this ancient traditional discipline and has called it the DDP Yoga. He has purposefully designed this variation to attract men with its unmistakably intense recognition to disperse all associated stigma to this discipline.
The Diamond Difference
Through its combination of various forms of yoga poses including the sports therapeutic stretches, calisthenics, and isokinetic movements, the DDP Yoga is a minimal impact, high performance home workout. The general idea of its design as explained by Dallas Page is to allow the spiritually adverse person to achieve all the required benefits offered and more without requiring any utterance of the traditional namaste.
Diamond states that this particular fitness program was personally initiated over 10 years ago with the hopes to allow his body to effectively recover from the long and overly painful wrestling career. However it wasn't until an endorsement by the Arthur Boorman transformation video hit viral records showing Boorman who was a nearly 300 pound war veteran was transformed into an lean healthy happy 160 pound person.
Requirements to perform DDP Yoga
To perform this simple workout requires only a yoga mat, a heart monitor, and 15 to 90 precious minutes of your time structured within the 15 various workouts contained within specific DVD sets. These sets are prepackaged thus indicating 4 suggested levels; The Beginner, The Immediate, The Advanced, and The Extreme. His program is structured to focus on core improvements and aimed to improve the balance, joint flexibility, and targeted to enhancing your upper body structure and provide a lower body workout at the same time. Built in modifications to the traditional body movements allow perfect pacing that will allow even the most out of shape person to effectively benefit from the program.
Dynamic Resistance
DDP Yoga uses a specific technique referred by Diamond Dallas Page as Dynamic Resistance which is categorized as the exercise experienced through weight lifting where the athlete will use an object of immense weight such as that of a barbell to create a force of resistance for the body to work against. Such a technique is classified as a sort of self-resistance created by oneself. The movements are executed as though you were actually lifting weights but without the actual barbells and can be seen as a person moving as through the air were made of clay simulating resistance which would be experienced in a slow and controlled manner. By creating a posture as an unmovable mountain can easily be transformed into a simple workout exercising the muscles causing you to burn calories just standing in one position. Dynamic Resistance allows the heart to increase its heart rate and blood circulation within the body. A feature which could not be achieved through traditional yoga.
Many enthusiasts after purchasing the set of DVD's were amazed to notice positive lasting results within only six weeks of going through the program. Improvements in core bodily functions and overall strength, firmer joints, lower back muscles and posture and flexibility were achieved through a variety of contorts and squatting in every position which would otherwise be classified as ridiculously embarrassing.
Most Recommended