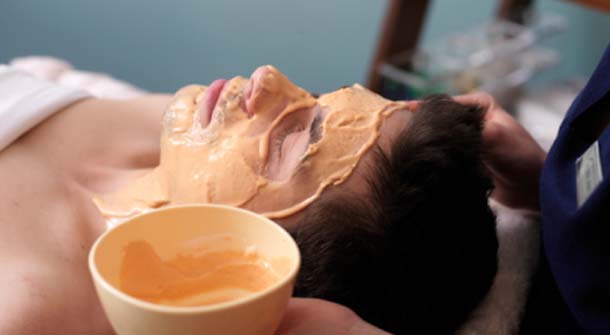 Remember those movies where someone's mom or sister inevitably turns up in a green goopy facial mask all over their face? Yes, we all laughed then... but odds are we wished we had their skin now. Turns out, those hilarious beauty treatments were super effective ways to fight off wrinkles and uneven skin tone – two of the most noticeable signs of old age. Fortunately, as luck would have it, the facial mask is just as popular now as they were then, and many times more effective.
Retinol or Retin-A Masks
are loaded with a powerful form of Vitamin A that helps promote skin renewal while also fighting off free radicals that cause further age-related damage.
AHA Masks
are comprised of alpha hydroxy acids, which strip away the very top layers of skin (where damage, wrinkles and fine lines are most noticeable) to reveal younger healthier-looking skin beneath. When the AHAs are in high concentrations, these masks are known as chemical peels. But you can find milder formulations available over the counter. Just be sure to follow label instructions to avoid sensitivity and be sure to use sunscreen afterwards.
Q10 and Co-Q10 Masks
Coenzyme Q10 is a naturally occurring chemical compound that decreases as we age. This enzyme in particular has powerful antioxidant properties and also works to increase the lifespan of healthy skin cells.
You don't have to tell your friends about your little secret, but you owe it to yourself to treat your skin with some respect and reveal a younger you.