Dressing For a Night Out On The Town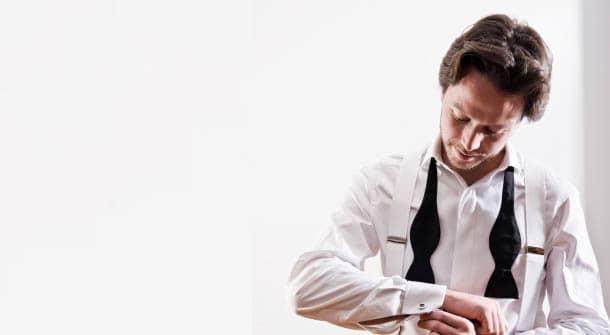 Dressing for a night out, When you've got plans for a night on the town sometimes it can be a little tricky to find the right clothes, fit and style for the big occasion. Whether it is a wedding, a holiday party, business function or the like, you want to always look your best and always wear appropriate clothes for the occasion. To help you ensure that you look your best here are a few tips for dressing for a night out on the town to get you ready in style.
Tips for dressing for a night out on the town
Tip #1: Not Every Formal Occasion Calls for a Tux
The biggest tip we can give you is helping you to figure out whether a tuxedo is appropriate or not. Usually unless the event call for black tie or is a wedding, a tuxedo might be a little overkill. In this case a dark suit or a stylishly mismatched jacket & pants combination might be just what you need to look good for the event, but without the overly stuffy feeling of a penguin suit. If you aren't sure if a tux is appropriate trust you gut and nix the tux.
Tip #2: When You Wear a Tuxedo Don't Cut Corners: dressing for a night out
The reason a tuxedo looks stylish and is traditional formal wear for men is because it works well to bring your personal style up to par with the special occasion. However, if you do wear a tux don't cut corners on the look because it just doesn't work quite as well without all of the individual components. From the cummerbund to bow tie, it needs all of its individual pieces to complete an overall stylishly handsome appearance.
Tip #3: Take Some Risks When You Can
After-dark wear whether it is going to a trendy club opening or celebrating a special event is the perfect option to take some risks and let your style lose. As long as it isn't a business function where you need to look a certain way, try out some new clothing items like that ultra-luxurious blue velvet suit with the double breasted styling or the quirky vest, tie and tweed jacket combination that you've been fiddling with. Let loose and create a formal look that isn't restricted to a simple black and white wool suit. dressing for a night out
Tip #4: Don't Forget to Finish Off the Look
One thing that can get lost in the effort to put together formal clothing for you special occasion is paying less attention to the accessories and your hair styling. With a formal look you want to ensure that you look good from head to toe, so be sure to pair the look with a sharp looking button up dress shirt, a luxurious long winter coat when whether appropriate, add a few additions like a stylish watch or cufflinks, and be sure that your hair is artfully styled to match your clothes.
Most Recommended