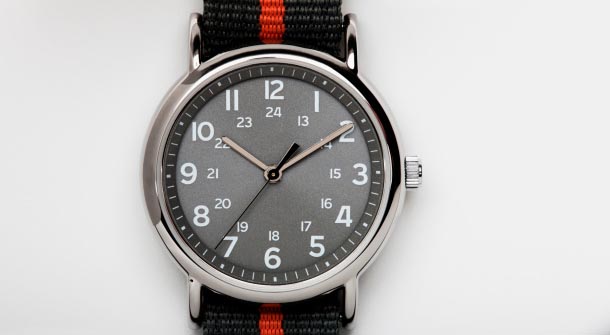 Chose the right watch for your budget, a watch is functional accessory for men that can make a big statement. Too many men let this opportunity go by because they use their cell phone as a personal watch. It's much classier to check your wrist than to pull your phone out of your pocket. Plus, no one can accuse you of checking your text messages when you are looking at your wrist. The fact is, most of us can't afford a Bulgari, Breitling, or a Rolex watch.
How can you find the right watch for your budget? Here are a few ideas.
Men's fashion watches found at department stores are often far less expensive than designer label watches. Bulova watches, for example, are often in the hundred of dollars instead of the thousands. Caravelle, however, is a division of Bulova that allows you to get a high quality and fashionable watch for under $100. Take advantage of offshoot companies like this that make high fashion available to the masses.
Having a watch with a changeable strap is another great idea.
If you have a watch with a fabric strap, you can change out the color to match your outfit. Fossil is the perfect company for something like this. Watch faces run from about 95-125 dollars. Then you just get a few 20-75 dollar straps, and it's like you have an entire drawer of watches. You can make it work with any outfit or for any occasion. You display the Fossil name (which commands a pretty good amount of clout), and you don't have to shell out $500 to get 3 watches. Smith and Wesson, Kenneth Cole, Timex, and many other popular name brand watch makers produce changeable bands. Just be sure that if you are choosing individual bands instead of buying a set that all of the bands you purchase are the right width for the watch face.
The right timepiece
It can be an important part of either a business or a casual outfit for a man. The good news is that you don't have to break the piggy bank to get the right one for you. Discount clothing stores like Kohl's or online shopping sites like Amazon can often help you to get a nice everyday watch at a great price. Now all you have to do is find one that looks great on you. Then you can leave your phone in your pocket unless you are taking a call.