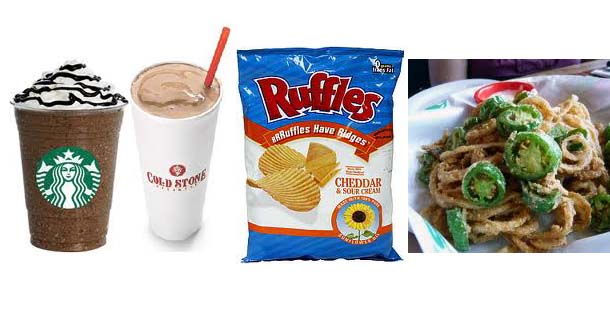 When it comes to foods a lot of the time the most delicious foods are the unhealthiest for us. From tasty fast food cheeseburgers to sweet treats like a decadent iced coffee at the local coffee house, they may be delicious but they are filled with high amounts of calories, fat and additives that degrade our bodies in horrible ways. Take a look at these 4 foods that you should never eat and why.
foods that you should never eat Cold Stone PB&C Shake
For most of us it is pretty apparent that ice cream isn't the healthiest sweet treat around, but this shake is one of the worst out there. The peanut butter, chocolate ice cream and milk shake may be tasty, but you pay for it in the fine print. The "Gotta Have It" size, the largest one available, clocks in at a whopping 2,010 calories with 131 grams of fat (68 grams of those saturated fat) and 153 grams of sugar.
Starbucks Chocolaty Chip Frappuccino with Whipped Cream
Starbucks once upon a time used to be known for just coffe, but in recent years they've made a name for themselves as the coffee chain that create mouth-watering coffee drinks loaded with syrups, whipped creams, sweet treats and more. The Chotlaty Chip Frappuccino is no different. The drink in a grande size has 510 calories, 19 grams of fat (11 grams of saturated fat), 59 grams of sugar and 300 grams of sodium. Don't let the "simple" coffee drink fool you, this treat is a meal in and of itself.
Chili's Onion String & Crispy Jalapeno Stack
Sure, this appetizer is meant to be shared with someone, but it is by and far one of the unhealthiest appetizers out there. The fried dish made mostly of jalapenos and onions, but the way it is prepared makes all the difference. It has a total of 2,130 calories, 213 grams of fat (31 grams of saturated fat) and 1,320 milligrams of sodium (which is actually 50% of the daily allotment for sodium for one person).
Ruffles Cheddar & Sour Cream Chips
When it comes to potato chips it is a given that the food isn't going to be a "healthy" treat, but this tasty snack features over 17% of the daily recommended intake of fat in just one serving and that's not all. It contains 160 calories a serving, 11 grams of fat and 230 milligrams of sodium. And, let's be honest who just eats a serving or two of these?