Best Winter Soups Hearty and Nutritious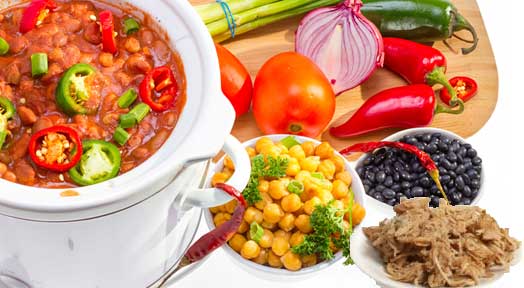 Winter is a great time to make nutritious, hearty winter soups using seasonal ingredients. Here are a few to try at home. You can keep them simple, or dress it up and really make it your own.
Hearty Beef winter Soup with Root Vegetables
Are you a meat-and-potatoes kind of guy? This is your go-to winter soups. It takes some time to prepare, but it's totally worth it. Make a whole batch at once, portion it out and freeze the portions for busy days.
Sautee a pound of lean stew meat in a Dutch oven until it's browned all over. Remove the beef, and toss in chopped onions. Sautee the onions until they're translucent but not browned, then add in fresh chopped garlic, a bay leaf and some dried or fresh thyme, oregano and sage. Place the meat back in the pot and add in about three cups of beef stock and a tablespoon of Worcestershire sauce.
Simmer the soup for about an hour and a half, or until you can pull the meat apart with a fork. Add in about a half-cup each of cubed sweet potatoes, potatoes, winter squash and carrots. Make sure the veggies are all cut roughly the same size—one-inch cubes work well–so that they will cook evenly. Add a bit of salt and pepper to the soup, then cook it for 15 to 20 minutes, or until the vegetables are fork tender but not falling apart. The larger your veggies, the longer they'll need to cook, and vice versa. Add more water if you need to.
Meatball Soup with White Beans, tomatoes and Winter Squash
This soup is relatively simple. Mix about a pound of lean ground beef or ground white meat turkey with salt, pepper, oregano, thyme and one egg. Form the meat into small balls (think spoon sized meatballs) and brown them in a tablespoon of oil in a Dutch oven. Once they're browned, add in three cups of beef stock or broth, a can of stewed tomatoes (with the juice), a can of white beans (drained), and chopped winter squash. Simmer the soup for 30 to 40 minutes. To make the soup even heartier, add in whole grain pasta about 20 minutes before you plan to serve the soup.
Turkey Chilli
Got leftover turkey? We've got a soup that will give you all the flavor and warmth to make it through those cold winter days—and it's pretty simple to prepare. Add one can of red chili beans, 1 can of black beans, 1 can of garbanzo beans, 1 can diced tomatoes, and 1 small can tomato paste. Add in two cups of chicken broth and bring it to a boil. Toss diced red onion, chili pepper, jalapeno, tomato and scallion. Boil the soup until the veggies are very soft. Add in shredded leftover turkey, and simmer the soup for another 1 to 2 hours. If there is too much water, boil the soup down further. If it's too thick, add broth. You can also use a crock pot and cook on high for 3-4 hours.
Most Recommended