How Tai Chi is Great for Your Health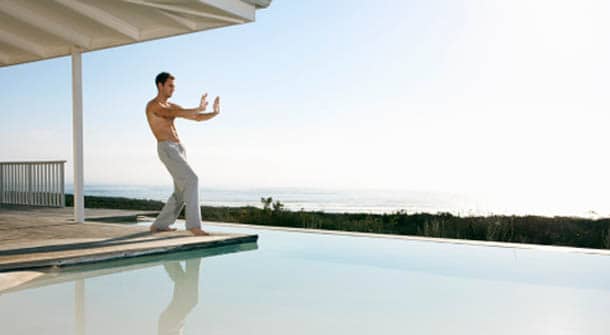 In ancient China Tai Chi began as a discipline that trained the mind and body to center itself and grow stronger. It is a great way to gain mental discipline and hone the body, learning ways to meditate, strengthen muscles, gain balance and more.
Tai Chi full body and mind workout
It was originally used as a way to defend oneself, but as its popularity grew it became just as well-known for its ability to improve the health of the mind and body. Incorporating Tai Chi into your fitness routine can have a great deal of health benefits and here are few reasons why Tai Chi is great for your health.
Alleviate Pain/Stiffness in the Body
As the body ages it starts to wear down, leaving the joints and muscles stiff and aching, making it harder to find the energy and ability to go about your everyday life. However, regular exercise can do a world of good in helping to nip this problem in the bud and Tai Chi can help to not only alleviate those problems, but helps to keep them from coming back as well. Tai Chi is an intensive workout that still manages to be easy, providing the right amount of strenuous exercise on your joints and muscles that keeps them strong, healthy and well lubricated.
Grow Stronger with Better Stamina: Tai Chi
Tai Chi is a workout that helps to build your body up through concise movements that that target every muscle and joint in your body as you move. The exercises allow your body to grow stronger as each muscles group and joint is given equal amount of attention, allowing you to strengthen, tone and improve your body's stamina in the process. Those who use workouts like Tai Chi usually have a better ability to be faster, stronger and workout longer whether it is a fitness exercise or a little fun between the sheets.
Learn to Balance and Coordinate Your Body Better
Tai Chi is a martial arts form that requires you to expertly balance your body and perform precise movements in carefully controlled ways. It is a step by step process that makes you learn to not only center your core gaining balance, but helps you to learn to better coordinate your body in small or large movements.
Get a More Restful Sleep Pattern: Tai Chi
Tai Chi is not only a body discipline, but a mental discipline as well… requiring you to center your thoughts and meditate to achieve the right mindset as you complete the precise movements. Because of this it is easier for you to center your thoughts outside of working out and allowing you to achieve a more restful sleep pattern. Through deep breathing and meditation you can learn to calm your mind and body even in the most stressful situations, making it easier to sleep regularly and in a deeper REM state.
Most Recommended