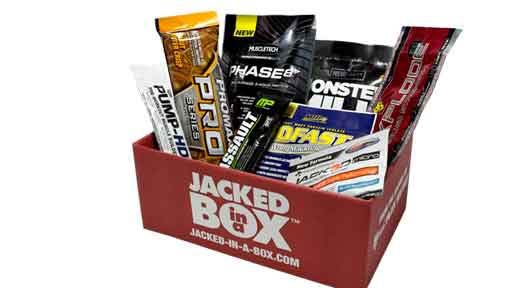 jacked pack in a box is the ultimate starter kit for supplement stacking. Generally speaking when it comes down to getting shredded and building top quality lean muscle mass. You get your training and your nutrition just right, then the next logical step is to get your supplement stack just right too. Supplements, although they are no real substitute for real food or hardcore training. They can offer you a real edge over others, and can certainly help to pretty significantly improve your training. As well as your motivation levels, focus, mental clarity, and your physique as well.
jacked pack in a box Supplement Package Review
The problem with supplements is the fact that there are just so many of the darn things. The sports supplement market is now huge, and is extremely lucrative and competitive. For this reason, there are new supplements and new supplement companies popping up every single day, so not surprisingly choosing the best supplements that work for you is most certainly easier said than done. One of the most popular Muscle magazines, devised a new concept. One known as Jacked in a Box, and so far it is proving to be very popular indeed.
What is Jacked in a box? –
More than simply just a clever play on words, jacked in a box is an ingenious concept from the people at Muscle and Fitness. Every single month, the people at Muscle and Fitness have an offer for their regular subscribers. This offering is the chance to sample a whole variety of different supplements. All of which are from a variety of different supplement companies. This concept used to simply be known as the Muscle and Fitness supplement sampling program. However, the marketers came up with a better name, as well as a couple of other tweaks here and there.
The great thing about this concept, is the fact that it allows you to sample a whole new variety of supplements. Which changes every single month as well so there is a huge variety in there as well. Generally the box includes pre-workout formulas, post-workout recovery supplements, whey proteins, soy proteins, BCAA samples, intra workout samples, creatines, glutamines, and much more on top of that.
Why are people so impressed? –
For starters, because the samples are free, and let's face it, who doesn't love a freebie? And secondly, because of the variety. Say you've been thinking about sampling a product. Supplements don't come cheap, and if you splash out and are disappointed. Then, that's a heck of a lot of money to throw away on something you don't like. Sampling the product beforehand gives you an idea of what to expect. You get to assess your tolerance levels to certain ingredients, you get to sample the tastes, you get to notice how your energy and recovery levels fair with certain products, and so on.
What do you get? –
For $15 per month, or simply $11.25 per box with an annual magazine subscription, you get: A free workout program designed by a fully qualified editor, a free copy of that month's issue of any of the magazines listed above, and 5 – 7 different supplement samples, all chosen by editors of the magazines in question. What a bargain!