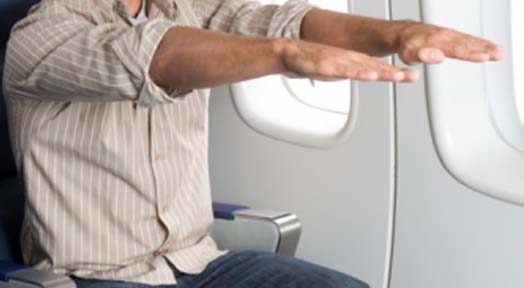 Have you ever heard of airline abs exercise, From the time you walk into the airport until the time you walk out of another at your arrival destination, there's a lot going on that makes you feel like a caged animal. There's the mind-numbing cattle line for baggage and security checkpoint; the duller-than-dull waiting area outside your gate; and let's not forget the cramped "space" you get as a seat. But fret not, fellow fitness freaks, you can get a decent workout in your seat thanks to a couple strategic airline abs that are perfect for small spaces (Hint: you can also do these at your desk when you're at work, or in the car, where appropriate).
Airline abs exercise
Suck It In:
We've all got this move tucked away in our back pocket. It's sucking in your gut to make it seem smaller. The trick is to make sure to engage your abs, not just your diaphragm as part of inhalation. You'll know it's your abs when your stomach doesn't move but you can still breathe comfortably. Focus on "rolling" the muscle contraction from your upper abs to your lower abs (this takes practice, but will help maximize the benefit of the exercise). Hold until you start to feel the muscle tire, then release, then repeat. Try to do a set of between 12 and 15 reps.
Floating Feet:
Sit as upright as you can (not hard if your seat is in the upright and locked position) and then lift your feet about 2 to 3 inches off the floor, keeping a 90-degree bend in your knees. Hold this position with your abs (try not to fully engage your quads) for about 20-30 seconds then release. Repeat about 10-12 times.
Side-so-lation:
To get at those oblique ab muscles without disturbing your seat neighbors, isolate your rib cage and concentrate on trying to move your spine to line up with one hip bone as you contract your abs and hold for 20 seconds. Hold the contraction as you slide to the other side and repeat. Aim for 20 reps per side.
When you disembark your plane, give yourself a quick stretch and feel better knowing that you actually got a little of your workout complete instead of just sitting there useless.