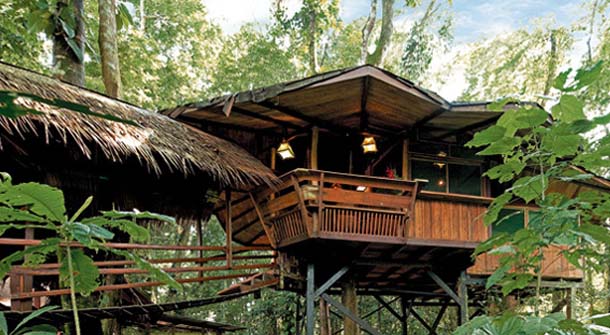 Raise your hand if you loved tree house hotels. We're sure pretty much all of you do because let's face it, tree houses are cool. As we grew up we let go of some of the fantasies and dreams of our youth, but the idea of living in a tree house for most of us still has a child-like charm to it that could make any man giggle like a school girl if given the chance to live in it. For most of us living in a tree house isn't an option, but vacationing in one for a week or two is certainly in the cards. Take a look at these 3 amazing tree house hotels around the world to recreate your favorite Swiss Family Robinson childhood fantasy.
The Treehotel – Harads, Sweden
This unique hotel in Sweden features 6 different tree houses that each have their own fantastical charm and design. From the UFO tree house that looks like an alien craft just landed amongst the tree tops of the forest to the Mirrorcube which is a square cube with surround mirrors that showcase 360 views of the forest around you.
The Tree House Lodge – Costa Rica
Located in the Gandoca-Manzanillo Wildlife Refuge in beautiful Costa Rica, the Tree House Lodge is a stunning mixture of luxury and nature in the middle of the jungle. This adventurous home away from home features all of the comforts of your own home like air conditioning and a hot tub all while providing you with a truly amazing view of the untamed wilds of the Costa Rican wildlife refuge.
Cedar Creek Treehouse – Mount Rainer National Park, Washington State
Found just a little bit closer to home, this beautiful tree house amid the Gifford Pinchot National Forest is a truly spectacular chance for you to become one with nature… at least for the length of your vacation. At 50 feet up in the air the tree house has an unobstructed view of the National Park and all its splendor from nearby babbling brooks to the towering peak of Mount Rainer. This "off the grid" little treehouse allows you to truly experience all of the adventure and charm of your youthful dreams without traveling halfway across the world.