Best Snorkeling Destinations in the World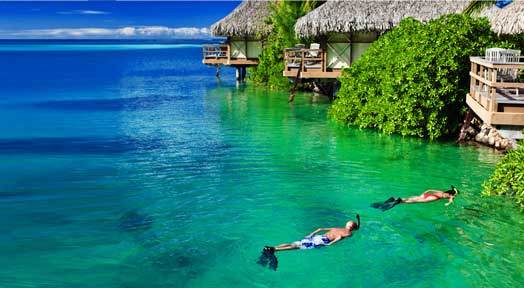 Instead of going on a monotonous road trip or a crazy family trip to Disney world, why not take yourself or the family to one of the best snorkeling destinations in the world? Snorkeling is a great way to see the world from a prospective that humans don't get to see every day as well as allow your body to stay active during a holiday. There are some truly amazing snorkeling destinations around the world from Mexico to the Caribbean and everywhere in between, but only a few hold the title of the best snorkeling destinations in the world.
Best snorkeling destinations in the world
Providenciales, Turks and Caicos Islands
Found along the Southern tip of Cuba, the Providenciales, Turks and Caicos Islands offer tourists some of the most pristine waters and is home to a large variation of marine life such as corals, tropical fish and other sea creatures. These islands truly are a snorkeler's paradise as the water is warm year round with a gentle current that won't lead less the proficient snorkelers away.
Curaçao, Netherlands Antilles
Curaçao has a reef that is follows along the edge of the island and is just a short swim away from the beach, so snorkelers can view hundreds of marine creatures in a small area of the reef and be entertained for hours on end. The island features several snorkeling spots such as the Curaçao Underwater Marine Park on the southern tip of the island where you can swim along the 12 mile reef that features such sea creatures as turtles, dolphins, colorful tropical fish & corals and even a few sunken ships as well.
Cozumel, Mexico
Cozumel has had the honor of being listed as one of the tops snorkeling destinations for decades after the famous Jacques Cousteau fell in love with the beauty of underwater sealife in the late 1950's. The island has snorkeling spots found along the beach and a ways from the island by boat. It features sunken ships & planes and a warm water temperature nearly year round. Cozumel does feature a current that is a little bit stronger than other snorkeling destinations on the list so be aware this may not be the right snorkeling destination for kids or for those less experienced in snorkeling.
Anegada, British Virgin Islands
This beautiful island has a large selection of snorkeling spots that have hundreds of sunken ships and a large sealife population that draws travelers from all over the world. Because of the remote area, this spot isn't for the faint of heart, but the plus side is that snorkelers won't be bothered by a bevy of tourists on the beaches or in the water distracting them from the beauty found underwater.
Most Recommended