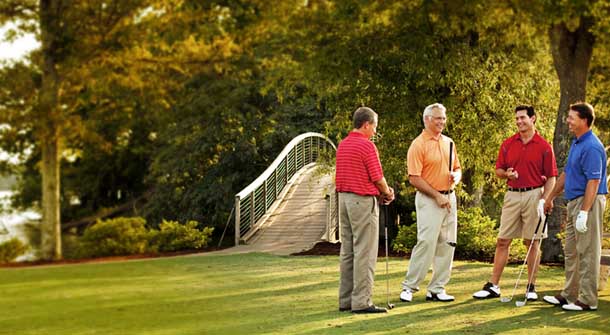 Now that the weather is starting to thaw out, make a turn south and head to Callaway Gardens in Pine Mountain, Georgia. About an hour south-west of Atlanta, this sprawling resort in the Georgia foothills is an excellent place to enjoy the great outdoors, stay active and have a great time doing it.
Golf Getaway at Callaway Gardens
Besides two 18-hole golf courses highlighted by rolling hills, large trees with spectacular fall foliage and serene lakes, the resort also boasts an amazing treetop ropes course, tennis courts, bike trails, a fly-fishing academy, guided fishing trips, numerous nature and wildlife trails, seasonal farmer's markets, botanical gardens, aviary, and several on-property restaurants, you can spend a couple days or a full week here and never do the same thing twice.
Much more than Golf
The scenery is an amazing backdrop to any activity you choose, making it easy to hike that extra mile or climb that extra hill. And the weather this time of year is so brisk and refreshing that it simply feels amazing to be outside and moving. There are numerous accommodations to choose from at Callaway Gardens this destination also makes for a great guys getaway and often has packages that allows for unlimited golf, tennis, fishing and much more. You can arrange a group outing for a charity event or come visit the many tournaments and events that take place year round.
Hit the Greens
If you are looking to get away for a great golf vacation but don't want to join the crowds at Augusta National Golf Course, Callaway Gardens Golf Course is a fantastic alternative in the great state of Georgia. While Callaway Gardens does stay open year-round, and they do offer a number of winter events and activities, now is one of the best times of the year to enjoy both favorable weather and a variety of outdoor pursuits.