Fitness Retreat Travel Destinations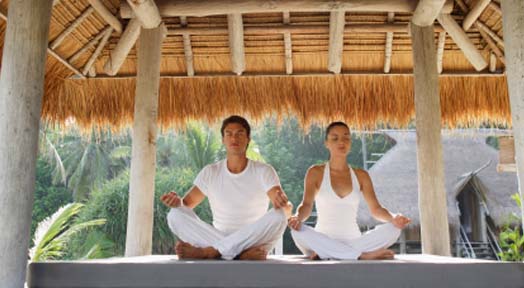 Fitness retreat travel destinations are designed to get you in shape and healthy in mind, body and spirit in a variety of ways. Many of them are not for the faint of heart and require a unique mindset to make them beneficial as a fitness retreat. For most a fitness vacation wouldn't be an ideal rest from the stresses of everyday life, but for the few whom do, the top fitness retreat travel destinations can offer an experience like none other and help to balance the mind and body so that they are healthier than ever.
Fitness retreat travel destinations
1. Kripalu Center for Yoga & Health
Kripalu is a wonderful place where fitness and relaxation come together to form a place where you get healthier while de-stressing in style. The fitness travel destination emphasizes nutrition, stress management, life coaching and yoga to improve the health of the body and the stability of the mind. The center offers several distinct fitness programs from weight loss to immersion programs to make this fitness vacation one that will get your heart pumping and your mind centered.
2. Elkhorn Mountain Fitness Retreat
The retreat is a fitness travel destination that offers specialized and focused fitness care as they only accept about 8 to 16 guests at a time. Elkhorn Mountain Fitness Retreat helps guests find a proper balance of fitness, weight loss, stress reduction and an overall healthy lifestyle. The retreat features fitness activities such as mountain biking, hiking, yoga and power flexing to help ground the body and give guests a solid foundation for a healthier life. It also has the particular benefit of offering guests vegan and vegetarian meal options so that no matter what a guest's diet is, the retreat can be accommodated.
3. The Golden Door
Named the best fitness program by Reader's Choice in 2009, The Golden Door offers a relaxing fitness retreat that helps to focus and balance the mind, body and spirit through a customized fitness program featuring things like hiking, biking, water classes, tennis, tai chi, yoga, etc. The retreat marries a fitness travel destination with luxurious amenities so that the fitness vacation is one to remember.
4. GetAway Fitness
This fitness travel destination offers unique fitness getaways for active people and has locations in Florida, California and the Caribbean. GetAway Fitness has Fitness Boot camps where you can enjoy the workouts featuring fitness exercises like swimming, biking, Pilates, strength and core training, beach cardio and more.
Most Recommended